UPSC Civil Services Mains Exam Essay – Types, Writing Styles and Characteristics
The UPSC Civil Services Mains Exam Essay Paper is one of the most essential papers in the UPSC Exam. Candidates will have to write two essays, each with a word count of 1000 – 1200 or as per the latest requirement.
Candidates can select one out of four options. Each essay comprises of 125 marks with a total of 250 marks. Candidates need to prepare well for this exam, and they should start practising for this exam after analyzing the pattern from the previous year papers.
The correct choice of topic and the appropriate method of writing are essential. Candidates are often advised to choose factual topics where they can pack in a lot of information. Try to avoid controversial topics.
Essay Types
Narrative Essay – The writer narrates an incident or event.
Descriptive Essay – The author describes any event, process or condition.
Informative Essay – The purpose of the writer is to provide information, including negative and positive sides to a topic.
Persuasive Essay- The author tries to convince the reader about the topic.
Note : In the mains essay paper, a combination of all these types and styles are generally required. The writers should aim to define the type of essay used in the final draft.
Essay Writing Styles
Structured: In a structured style essay, the author builds a framework on which he will write the essay.
Spontaneous: A spontaneous essay is where the author is able to think on their feet and write spontaneously on any given topic.
For the UPSC Civil Services Exams, it is recommended to use the structured style. It is important for candidates to collect their thoughts and organize points which they will be covering in the final essay beforehand. As a writer or a well-prepared candidate, aspirants have to figure out which style suits them more. This can be done by practicing essays in mock tests.
Essay Structure
Start with a strong introduction
Include historical facts
Describe the main issue/problem
Plot the current scenario/current news related to the topic
Discuss the positive and negative aspects of the topic
Obstacles while solving the problem
Reforms/way forward
Method of Writing
Start brainstorming.
Write down all the ideas and data have gathered about the issue.
Do not classify or systematize main points at the beginning.
Start by putting them on paper randomly as they flow in.
Later, arrange the ideas logically and sequentially.
After creating the sequence, start writing, and giving due care to the introduction, the body and finally, the conclusion.
Ensure there is enough time for revision.
Good Characteristics of Civil Services Mains Exam Essay
Clear and concise
Coherent throughout
They are written in a primary yet excellent/accurate language
Contains relevant quotes, examples and statistics
They are written in the right hand
Relevant to current status of India
Multi-dimensional
Neutral and balanced
Offer possible solutions to problems
Other Essential Points
Never get personal in the essay.
Don't have extreme views on any topic.
Don't just present problems, give possible reforms/solutions.
Don't criticize anyone/anything excessively with a single point of view.
Never choose a provocative topic. The essay shouldn't be the centre around it.
Present a balanced picture. You don't HAVE to agree to the issue.
Avoid writing perfect solutions.
Understand the fact that you are a future officer.
In the end, remember that good writing does not happen by accident. We recommend candidates to practice writing essays surrounding the UPSC Civil Services Exam .
Areas covered in this article
Tricks to write a good essay for the UPSC Civil Services Mains Exam
Different types and styles of essays
Characteristics of a good essay
Related Links
Top 10 Genuine Reasons Why Civil Services Is the Most Coveted Service in India
UPSC CSE Exam 2021: Important Highlights
Erica Chenoweth and Zoe Marks Named Pfoho Faculty Deans
Harvard SEAS Faculty Reflect on Outgoing Dean, Say Successor Should Be Top Scholar
South Korean President Yoon Talks Nuclear Threats From North Korea at Harvard IOP Forum
Harvard University Police Advisory Board Appoints Undergrad Rep After Yearlong Vacancy
After Meeting with Harvard Admin on 'Swatting' Attack, Black Student Leaders Say Demands Remain Unanswered
CIVIL SERVICE REFORM PRIZE ESSAYS.
The Cambridge Civil Service Reform Association offers two prizes, of one hundred dollars, and fifty dollars, for short essays on the best methods of appointing executive officers, and selecting laborers in municipal governments, and the terms and tenures most suitable to municipal offices. Competition is open to all who may choose to write, and the whole subject or any branch thereof may be treated. It is expected that the essays will be examined by President Francis A. Walker of the Massachusetts Institute of Technology, Prof. Shaler of Harvard University, and Richard H. Dana, Esq., of Boston. Accepted essays will become the property of the Association and will probably be printed.
Essays must not be more than twenty-five pages, nor less than ten pages of the North American Review, and must be sent before January 15th, 1884, to Morrill Wyman, Jr., secretary, Cam-Mass., endorsed with a fictitious name. The real name and address must be sent in a sealed envelope to the above address at the same time.
MORRILL WYMAN, JR., Secretary.
Want to keep up with breaking news? Subscribe to our email newsletter.
Legislative History: Civil Service Reform Act of 1978
Introduction.
The Civil Service Reform Act (CSRA) of 1978 was an essential step towards creating an effective government system in the US. President Carter together with unions created a system in which employees could serve the country and perform their duties. The law had direct and indirect implications on the federal and local levels as it influenced the way organizations operated. Other proposals were implemented to support the rights of employees in the country as well. This paper aims to explore the issues that led to the creation of the CSRA and to examine how it had influenced the environment of civil services.
CSRA had addressed many of the concerns of federal employees. Before 1978, the civil service in the US was described by President Carter as a "bureaucratic maze" (as cited in Ogrysko, 2018, para. 4). Lack of motivation for work and inability to advance in one's career were the main issues with employment by the government. The restrictions and regulations associated with work made it impossible for the personnel to perform tasks better. It was believed by the public that those who served the government could not be removed from their positions as the disciplinary system was overly complicated. Therefore, the CSRA's implementation was vital to ensure that the US government functions properly and effectively, as it had been experiencing a variety of issues.
The implementation of CSRA has made governmental agencies more effective as the changes brought by the reform were significant. Khan (2014), states that President Carter utilized business practices to enchase the efficiency of governmental processes. Besides, the cooperation between labor unions and lawmakers was essential in creating effective policy. According to Ogrysko (2018), the law was aimed at restoring valuable principles, providing more flexibility to managers, and aligning rewards with the performance of an employee.
The Civil Service Commission had seized to exist, having been replaced by the Merit Systems Protection Board and the Office of Personnel Management ("Civil Service Reform Act of 1978", n.d.). The objective was to provide guidelines to the management while guarantying that the power would not be abused by officials. Disciplinary hearings were handled by the Merit Systems Protection Board, which researched whether an employee had violated any regulations with their actions. Additionally, Federal Labor Regulations Authority was established to ensure that unions can utilize the approach of collective bargaining while advocating for the rights of employees.
The CSRA of 1978 had direct and indirect implications for the civil service on the local and federal level. The direct influence the law had on agencies is the process in which they have operated. Because changes were made to how managers and employees handled their duties, the work process had become more efficient. The objective of the reform was to "provide the people of the United States with a competent, honest, and productive federal workforce reflective of the Nation's diversity, and to improve the quality of public service" ("Civil Service Reform Act of 1978", n.d., para. 14).
Thus, the law influenced each organization on the local level. On the federal level, the CSRA established a new practice for handling conflicts with employees through the Merit Systems Protection Board. The indirect implication that the CSRA had created was the perception of the governmental system by the public. Therefore, the CSRA had affected many aspects of agencies' operation on the local and federal level.
Apart from the CSRA, other legislative initiatives were directed at improving work conditions for those who are employed by the government. According to Rubin (2018), the law is valid to this day, "the Civil Service Reform Act of 1978, and its accompanying laws protect the rights of civil servants by prohibiting them from being fired because of their personal political beliefs" (para. 7). Thus, the changes that were made in 1978 remain essential for government officials throughout the years.
The Americans with Disabilities Act of 1990, the Rehabilitation Act of 1973, the Genetic Information Nondiscrimination Act of 2008, and the Civil Rights Act of 1991 were directed at improving work conditions and illuminating discrimination in the workplace. Although the laws were not solely enforced on the governmental employees, they were crucial for anyone who sought to find a job as they guaranteed equal rights and opportunities.
Overall, before the implementation of CSRA federal employees in the US were discouraged by the functioning of the system. The law change was a response to a variety of issues in the government system. Thus, CSRA allowed the employees to work more efficiently while offering the unions an opportunity for collective bargaining. The Merit Systems Protection Board and the Office of Personnel Management were created to address the existing problems, including the issue of investigating misconduct of employees. Additional laws, such as the Americans with Disabilities Act of 1990, the Rehabilitation Act of 1973, and others enhance the workforce diversity and protect the rights of the personnel in the US.
Civil Service Reform Act of 1978 . (n.d.). Web.
Khan, H. (2014). The passage of the Civil Service Reforms Act of 1978, and the business and the union: A non-zero sum game. International Journal of Public Administration, 37 (1), 35 – 43. Web.
Ogrysko, N. (2018). Stars aligned for civil service reform in 1978; will they again in 2018? Federal News Radio . 
Rubin, J. (2018). Distinguished person of the week: Someone takes his oath seriously . The Washington Post. Web.
Cite this paper
Chicago (N-B)
Chicago (A-D)
StudyCorgi. (2022, March 10). Legislative History: Civil Service Reform Act of 1978. Retrieved from https://studycorgi.com/legislative-history-civil-service-reform-act-of-1978/
StudyCorgi. (2022, March 10). Legislative History: Civil Service Reform Act of 1978. https://studycorgi.com/legislative-history-civil-service-reform-act-of-1978/
"Legislative History: Civil Service Reform Act of 1978." StudyCorgi , 10 Mar. 2022, studycorgi.com/legislative-history-civil-service-reform-act-of-1978/.
1. StudyCorgi . "Legislative History: Civil Service Reform Act of 1978." March 10, 2022. https://studycorgi.com/legislative-history-civil-service-reform-act-of-1978/.
Bibliography
StudyCorgi . "Legislative History: Civil Service Reform Act of 1978." March 10, 2022. https://studycorgi.com/legislative-history-civil-service-reform-act-of-1978/.
StudyCorgi . 2022. "Legislative History: Civil Service Reform Act of 1978." March 10, 2022. https://studycorgi.com/legislative-history-civil-service-reform-act-of-1978/.
StudyCorgi . (2022) 'Legislative History: Civil Service Reform Act of 1978'. 10 March.
This paper "Legislative History: Civil Service Reform Act of 1978" was written and submitted to our database by a student to assist your with your own studies. You are free to use it to write your own assignment, however you must reference it properly.
If you are the original creator of this paper and no longer wish to have it published on StudyCorgi, request the removal .
The Encyclopedia Americana (1920)/Civil Service Reform
Edition of 1920.  See also Spoils system  and Merit system on Wikipedia , and the disclaimer .
CIVIL SERVICE REFORM , the improvement of the civil service in methods of appointment, rules of conduct, etc.; in the United States, the movement for the appointment of public servants according to their fitness for their work, rather than their services to the party in power.
In the year 1835 a debate took place in the Senate of the United States on the condition of the civil service, and especially an the abuse of the power of appointment and removal to serve party ends instead of public ends. Among the senators who took part in the debate were the three whom history has judged the strongest in that famous body, Daniel Webster of Massachusetts, Henry Clay of Kentucky and John C. Calhoun of South Carolina. Differing widely in their views of party policy and rivals in ambition, they were of one mind as to the true nature of the public service and as to the errors and evils that had crept into it. Mr. Webster, then in the prime of his young manhood, had already won the title of the "Great Expounder of the Constitution." He thus stated the idea in which the others heartily joined: "The theory of our institutions is plain; it is that government is an agency created for the good of the people, and that every person in office is the agent and servant of the people. Offices are created, not for the benefit of those who are to fill them, but for the public convenience."
There is no doubt that this is indeed the true theory of our institutions. It is to be found in all the early writings of the men who formed the government. It is the basis of the Declaration of Independence, that "governments are instituted among men" to secure the rights of "the governed" from whose consent "they derive their just powers." When our national government was founded it was the only one in which offices were not a privilege, but a trust, imposed by the choice of the people and for their sole interest. Neither birth nor rank nor wealth gave any title to them. Each of the men who held them was intended to be, in the words of Webster, "the agent and the servant of the people."
This theory had grown out of the needs of the American people, and fitted them closely. As colonists they had had to work and fight hard for the right to live and the means to live as free men in a wild land, far from the homes of their fathers, amid many perils and hardships. There was no ruling class among them. To attend to the common business of each little settlement, they were led to choose among their own number the agents best fitted for the task. These in the early days were, as in the towns of New England they still are, "select-men," "trustees." The name shows what was expected of them, and what was their title to employment. As the towns were grouped in counties and the counties in States, the public business grew, became more complex and required a larger number of agents with different duties and powers, but the idea held. They were still agents, selected men, trustees. From the most modest unpaid village or town officer to the President of the United States, the commander-in-chief of the army and navy of the nation and its representative in the eyes of the world, no man in the public service in this country is anything but the agent, the trustee of the people.
One result of the growth of the public business has been that only a small part of the agents for doing this business are chosen directly by the people. Those thus chosen are entrusted with the employment or appointment of a very large number of others. The chief difference between the two classes is that those elected are expected to carry on the public business in a way that the majority of the voters are in general agreed upon. They are the choice of the majority party and, so far as the rights of all permit, they are the agents of that party. When the views and wishes of the majority change, these agents are usually changed also. But the far greater number of agents for doing the public business are appointed or employed. The duties of nearly all these are the same no matter what may be the policy of the majority party. In the national government, for instance, the main work for those in office, except the highest, is the collection and expenditure of the taxes. The taxes are collected on goods brought into this country for sale or on goods made here for sale; in other words, customs, duties, and internal revenue taxes. Parties differ widely as to which class of taxes should be the higher, and as to how high the custom duties should be. But all parties agree that the taxes of all sorts should be collected according to law honestly and fairly, that the money should be carefully accounted for and none of it stolen or wasted. Agents for this purpose need to be good business men of character and ability; they do not need to be of one party or another. Again, the Post-Office Department does a great part of the business of the government. It collects mail matter of all kinds, transports it, delivers it at home or abroad, makes large payments on money orders and sells the stamps by which the cost of its work is paid. As to this work, there is no difference at all between parties and there has never been. The agents engaged in it need only to be honest and efficient. They do not need to be of one party or another. In all offices where the duties are of this sort, it is plain that those engaged in them should be selected for merit only, promoted as the service requires and removed only for failure or incapacity to do their work in the best manner.
Such a policy would answer to Webster's statement of the theory of our institutions and to the practice of the early Presidents. Washington declared: "In every nomination to office I have endeavored, so far as my own knowledge extended or information could be obtained, to make fitness of character my primary object." In the first 39 years of the history of the government the six Presidents made only 112 removals. A few years later, when Webster had to define anew the true theory of the public service, a very different practice had grown up. It was frankly described in that same debate by Mr. Marcy, a senator from New York. He said: "The politicians of the United States are not so fastidious as some gentlemen are as to disclosing the principles on which they act. They see nothing wrong in the rule that to the victor belongs the spoils of the enemy." This theory is plainly the opposite of the true one. Under it elections do not merely settle the policy of the country, as to which parties may unselfishly differ. They become contests for spoils as well and tend to become more and more contests for spoils and less disputes as to principle. The spoils are the offices, the places of trust and these tend to be given not to those best fitted to perform their duties, but to those who have claims on the party. The service is hurt by putting out tried men and putting in untried men and since the untried men are chosen for other reasons than fitness, they are apt to be poorer officers. Since they owe their employment to party favor and do not get it on their merits, they are likely to be less faithful and less honest. They are liable to be turned out at the next election and they are tempted to make all they can from their places. The offices tend to be regarded as created not "for the public convenience" but "for the benefit of those who fill them." The service tends to become poorer, less honest, more costly. Any large private business conducted in this way would surely come to disaster. So would the business of the government if it had not the pockets of the taxpayers to draw from.
The Spoils System . — The spoils system prevailed in the service of the United States government for about a half-century after 1830. It also prevailed in greater or less degree in the service of the several States and of the larger cities. It was not confined to any one party. All were more or less corrupted by it. The effect on the politics of the country was very bad. The pressure for public employment, always strong, became extreme. Probably the election of 1860 was as largely decided by moral conviction as any in the history of the country. Yet, one month after he took office, President Lincoln groaned under the burden of this pressure. "I wish," he wrote, in his simple phrase, "I could get time to attend to the Southern question. I think I know what is wanted and believe I could do something toward quieting the rising discontent, but the office-seekers demand all my time, I am like a man so busy letting rooms in one end of his house that he cannot stop to put out the fire that is burning in the other." In the crisis of the war for the Union he was visited by a committee of New York politicians, intent on patronage. The chairman opened his address with a reference to the "awful burden of the nation's fate weighing on the president." "Gentlemen," interrupted Mr. Lincoln, "it is not the fate of the nation that worries me most just now; it is your pesky post office." These incidents throw a strong light on the waste of time, of money and of strength imposed by the spoils system. The degradation and pollution of politics were even worse effects. The office-holders, living on the spoils of the place and greedy for more, seized the organization of their party, whichever it happened to be, and made the free exercise of honest preference among the voters difficult and often impossible. The scramble between factions in the party in possession became as intense as between opposing parties. In the custom house in New York, five collectors of the same party made 1,878 removals in a period of 1,565 business days and the service grew steadily worse. In 1881, Guiteau, an office-seeker from New York, where a bitter factional fight had long been raging, half-crazed with disappointed greed, assassinated President Garfield, to whom charged his failure.
The Merit System . — This proved the turning point. At the next session of Congress bills were introduced for the establishment of the merit system and a law was passed in January 1883. It was entitled "An Act to Regulate and Improve the Civil Service of the United States." The object of the law was to secure appointment and promotion in the service for fitness. For this purpose appointments were to be made from those graded highest as the results of open competitive examinations, the appointments being made final only after a period of probation or trial. This system was to be extended throughout the service as fast and as far as the President should direct. When any part of the service was to be brought under the system, it was to be arranged in classes by order of the President; hence the term "classified service" means, under the law, the part of the service in which the merit system is applied. Within the classified service, the examinations for appointment and for promotion are chiefly competitive; that is to say a list, called an "eligible list," is made of all applicants passing a fixed grade, in the order of their standing, and a selection is made by the appointing officer from the three highest on this list. This selection is for the period of probation or trial, six months, at the end of which term, if his conduct and capacity are satisfactory, the probationer is absolutely appointed; if not, he is discharged. Non-competitive examinations are held according to the rules laid down by the President. In these all applicants passing a fixed grade are eligible to appointment without regard to their relative standing. The rule as to probation is the same as in the other cases. The law requires that all "examinations shall be practical in their character and as far as may be shall relate to those matters which will fairly test the relative capacity and fitness of the persons examined to discharge the duties of the service to which they seek to be appointed." Close attention is paid to this requirement. In the first place, weight is given to the experience of the candidates in the kind of work they seek, when such experience can definitely be known. Then each class is tested as to knowledge and skill particularly needed. For clerks and accountants, weight is given to accuracy and quickness in figures, to clearness and rapidity in writing and to familiarity with the principles and methods of bookkeeping. Examinations are generally for entrance to the lower grades of the service and actual excellence in the performance of work counts in promotion. For places requiring special knowledge, trained examiners are employed. For instance, the examiners who set the questions and rated the answers in the case of the supervising architect were prominent architects from various parts of the country. They were able, from the records of the candidates, to test not only professional knowledge, but business capacity. In all cases the examiners are selected from those who are well informed as to the work to be done. The application of this law is to be carried out and watched by a commission, known as the United States Civil Service Commission, made up of three members, appointed by the President with the advice and consent of the Senate. This commission aids the President in the formation of the rules under the law, and, with the aid of examiners, sets and conducts the examinations. All appointing officers are required to report to it all changes in the classified service, of which the commission keeps a full record, as well as of its own examinations and other proceedings. All officers of the service are required to aid in the performance of the duties of the commission.
One of the worst evils of the spoils system was the fact that public employees were made to pay a large fraction of their salaries to party funds, and another was that these employees were forced to work for the party in power in order to keep their places. Both these practices are now forbidden by law in the service of the United States. No one in the service is allowed to use his official authority or influence to coerce the political action of others. All persons in the service are forbidden to ask or receive political contributions from others in the service. Such contributions cannot be solicited in any place or building used by the government. By the rules which have the force of law, no question can be asked of candidates for appointment as to their political or religious opinions; no disclosures of such opinions can be considered; no change of rank or pay can be made because of such opinions. Under the spoils system, the office-holder got his place from his party and was taxed heavily by his party managers. The law intends to put a stop to that; it holds the officer bound only to earn his pay by honest work, and free to spend it as he chooses. The law further holds him without fear of harm or hope of aid from outside, to do his duty to his employers, the whole people of the United States. It aims to put the people and those who work for them on the same footing that is maintained in honorable private business between employers and employed.
The merit system has been greatly extended since the passage of the law. Under President Arthur, who signed the law in 1883, some 16,000 places were brought within its provisions. The number is now over 120,000. While this advance has been made there have been more frequent changes of party in the government of the country than in any like period in our history. Each succeeding President, until the present, has, in the discretion which the law confides to the President only, added to the number of places removed from the spoils system. President McKinley withdrew a considerable number of places from the merit system for reasons urged upon him by the heads of some departments. The effect has been unfortunate. President Taft, near the close of his administration, transferred all the fourth class postmasterships to the classified service; President Roosevelt increased the number by including the deputy collectors of customs and internal revenue. The merit system has been extended to the service in the Philippine Islands in a way that promises to make the work of governing there clean, efficient and fair to a degree that could hardly have been looked for. In this region the bond of trusteeship rests upon our government with a peculiar and solemn obligation. The United States have taken control of the affairs of the people of these islands as the result of a war with Spain, without the assent of the people in the first instance, and against resistance by a portion of them which was overcome by arms. It would be a sore disgrace if their affairs were not managed honestly and purely and for the interest of the governed. The merit system on the lines of the Civil Service Law has been established there, under the general guidance of an experienced and skilled examiner from Washington. As many natives as practicable are being employed. It is still too early to judge of the final outcome, but the beginning is promising.
The chief aim of the merit system is, on the one hand, to get the best service for the government — that is, for the people — and, on the other hand, to remove from the party contests of the country the corrupting influence of the vast number of business places offered as spoils to the victors. The methods of competition and probation are not perfect, and, like all other human methods, are liable to mismanagement. But they are the best that have ever been tried, and they are very effective. The test of competitive examination is shown to be thorough and practical by the fact that only a very small number of those who pass that test are dropped after probation or trial. Another proof is the much larger amount of work done by persons so selected. During 10 years before the adoption of the merit system in the departments at Washington the number of clerks increased from 3,300 to 5,523, or more than two-thirds. In the 13 years after the system was adopted the number actually fell off 211, or 3 per cent, while the work of the departments had largely increased. Another proof of the efficiency of the system is the small number of changes that take place in it compared with those that take place in the branches of the service where the system is not yet applied.
The entrance examinations are held in all parts of the land, and men and women are selected for the departments at Washington with no regard whatever for their party views or the influence of politicians. This has been of great effect in laying to rest the passions bred by the Civil War, and giving to the dwellers in the South a sense of their common rights and duties as citizens of the nation. It is a great and lasting gain.
In 1884, laws for the introduction of the merit system were enacted in New York and Massachusetts, and later laws authorize the system in the service of cities in Wisconsin and Illinois. In Massachusetts and in New York the system has made much progress and the results have been good in proportion as the system has been extended and honestly and faithfully applied. But the evils of the spoils system still prevail almost without check in the service of the cities and the States throughout the country. The enormous number of places involved are still almost wholly the prizes of party contests. The place-holders, many times more numerous than the present army of the United States, are in greater part enlisted for party rather than for public service. Efficiency, industry and economy in the public work are hard to secure. The suppression of vice and the decent administration of the affairs of cities and States are made more difficult.
Clearly it is best that the merit system should be applied to all that portion of the civil service in which the duties are of a business nature and in which the office-holders are not called on to fix the policy of the government. There is no Democratic or Republican or Populist way of being honest and industrious and intelligent which all Americans may not use. To these qualities in their service the people have a right, and no party can claim a monopoly of them. Much remains to be done to complete the work so well begun. The men in all parties who look on public employment, not as a trust, but as the spoils of party victory, resist all advance and seek to undo what has been done. They cannot succeed if the true nature of the merit system is understood, its honesty and fairness, its high utility and its fidelity to the fundamental principle of the free institutions of the American republic. From 1915 on the Civil Service Reform League conducted a vigorous agitation to bring all classes of postmasters into the classified service, all diplomatic secretaries and consular officers to be transferred to the classified service. The League also co-operated by request to ensure efficiency in war service. Consult Roosevelt, Theodore, 'American Ideals' (New York 1900); Fish, C. R., 'The Civil Service and the Patronage' (New York 1905). See Executive .
A well-functioning civil service helps to foster good policymaking, effective service delivery, accountability and responsibility in utilizing public resources which are the characteristics of good governance.
"Good Governance" is being used as an all-inclusive framework not only for administrative and civil service reform, but as a link between Civil Service Reform and an all-embracing framework for making policy decisions effective within viable systems of accountability and citizen participation.
Administrative reform focuses on rationalizing structures of government. Governance reform tends to refer to the improvement of legal and policy frameworks to create proper decision making environment; participatory systems for elements of civil society to become actively involved in policy and programme formulation and their implementation; and an effective and transparent system and process for control and accountability in government activities. Civil Services reform cannot be seen in isolation and it has to be undertaken along with administrative reforms for effective results.
Although comprehensive reform that involves governance, the civil service, and civil society is ideal, it requires sustained commitment from political and administrative leaders. It is also too complex to implement all at once.
ADVERTISEMENTS:
Few countries have undertaken comprehensive reforms and there are mixed results. The challenge lies in finding linkages among the governance, civil service and civil society components, determining which require priority attention.
Civil Services Reforms aim at strengthening administrative capacity to perform core government functions. These reforms raise the quality of services to the citizens that are essential to the promotion of sustainable economic and social development.
CSR can contribute to macroeconomic stabilization by restoring budgetary stability, strengthening revenue collection, managing aid effectively, and improving development performance through proper implementation of investment frameworks and the management of public expenditure plans and programmes.
The reform can contribute to the design and implementation of an equitable programme of social development. Enhancing the capacity of civil servants and improving their morale are critical to all these functions.
Related Articles:
What are the Components of civil services reforms in India?
Short Essay on the Civil service activism (India)
Essay on Economic reforms and challenges of governance
What are the Challenges to civil service reforms in India?
Essays: Civil Service Reform
A new data-driven, market-based compensation philosophy and salary structure for competitive, fair, and equitable salaries in the government of puerto rico", date: march 27, 2023.
In February, a new uniform salary structure was implemented which establishes the base salary for employees working in central government agencies. Since the implementation of the central government's new salary structure and uniform job classification system in the first quarter of 2023, there have been many questions from employees, legislators, and the general public about the new uniform classification and compensation system and the Civil Service Reform.
In the interest of providing transparency about this important change in the administration of human resources in the Government of Puerto Rico, the Financial Oversight and Management Board (FOMB) for Puerto Rico decided to publish this essay (link to essay) that provides details of the new salary structure, the employed methodology, the sources of data that were used, and how the salary of each of employee was determined.
For more than 40 years, the Government of Puerto Rico has relied on outdated salary structures, with some dating back to the 1990s, and compensation practices that do not conform to leading market practices. As part of the Civil Service Reform that the Financial Oversight and Administration Board is implementing with the Government of Puerto Rico, it was decided to review salary structures and practices to guarantee that the government has compensation models based on market data that lead to competitive, fair, and fiscally responsible salaries which promote greater motivation, commitment, and retention of employees.
System for Employee Evaluation for Professional Development (SEE-PRO):
Date: november 2, 2022, an innovative competency-based evaluation framework to catalyze the professional development of all levels of the public service.
FOMB's Research and Policy Department, as a matter of transparency and to keep all stakeholders informed, is publishing a series of essays on the methods and approaches employed, and the progress and latest developments of the Civil Service Reform (CSR) and its strategic components, which started with a pilot in the Department of the Treasury (Hacienda) and the Office of Management and Budget (OGP, by its Spanish acronym).
This third volume on the Civil Service Reform presents the new System for Employee Evaluation for Professional Development (SEE-PRO), geared towards skill development and the nurturing of strong employee-supervisor relationships, that was developed and implemented as part of the CSR Pilot in Hacienda and OGP. The essay covers the following topics:
Introductory section on the importance of employee evaluations and meaningful conversations between employees and their supervisors to cultivate engaged, skilled, and fulfilled employees, highlighting the role this critical management function has within the Civil Service Reform and its objectives.
Latest trends in employee evaluations and performance management across sectors, underscoring the shift from traditional performance management appraisals, to more modern, forward-looking development and professional growth focused employee and supervisor reviews, characterized by continuous feedback, mentoring, and meaningful conversations.
Key insights and data obtained through the organizational scan, workforce analysis, and competency assessment in Hacienda and OGP as part of the Civil Service Reform Pilot, that ultimately led to the decision of adopting a skill- and competency-based evaluation system rather than one focused on performance and productivity.
Methodology used to develop the Competency Framework, composed of core competencies that all employees of the Government of Puerto Rico should have and continue to develop, technical competencies specifically related to the job class, and leadership competencies for those in supervisory roles.
Overview of the step-by-step process of the employee evaluation cycle consisting of an initial orientation of the new employee evaluation system, self- and supervisor-assessments to gauge skill proficiency, analysis and visualization of agency-, area-, and employee-level skill assessments, training and implementation of meaningful conversations, agency-level strategic human capital planning, and individualized professional development planning, leveraging tailored online learning opportunities to meet target proficiency levels.
Change management activities and resources that were developed and implemented prior to the launching of the new competency-based evaluation system to involve, support, and effectively communicate with employees, supervisors, and other stakeholders the approach that was taken, key short-term and more long-term goals, and how to effectively engage with the new process.
Importance of structured, meaningful conversations between supervisors and their employees, as well as of more informal, regular constructive feedback loops, to strengthen employee-supervisor relationships and team cohesion.
The benefits and value-added the new, development-focused employee evaluation system can produce for employees, supervisors, agency leadership, and the whole of government.
Transforming Recruitment in the Government of Puerto Rico
Date: july 20, 2022.
Importance of getting recruitment right and providing a streamlined candidate experience to attract top talent, particularly in the context of a tight labor market where private sector entities are competing fiercely for the best candidates
The relationship of recruitment with the other strategic components of the Civil Service Reform, highlighting the importance of organizational design and strategic workforce planning prior to developing job specifications for a job announcement to optimize recruitment outcomes
Thorough review of the current-state recruitment process, focusing on identifying specific areas of opportunity to improve the experience of candidates and government agency HR recruiting and hiring teams for better recruitment outcomes
Phase 1, designed and implemented as part of the Civil Service Reform Pilot
Phase 2, to be designed and implemented as part of the governmentwide Civil Service Reform
The importance of designing and launching an employer brand and recruitment campaign to communicate to potential applicants the government's employee value proposition (EVP) in a clear and unambiguous manner, to inspire, engage, and attract top talent generally, and for the new innovative positions in the Department of Treasury (Hacienda) and the Office of Management and Budget (OGP, by its Spanish acronym).
Chronicle of the reform, from the initial stage of investigation and diagnosis to the recommendation, design, and implementation of the pilot plan of the reform and the planning for a broader implementation
Restructuring and modernizing the organizational structures of the agencies of the Government of Puerto Rico
Compensation benchmarking methodology to ensure competitive, fair, and justified salaries in the government.
Methods And Practices
Date: april 28, 2022.
Compensation benchmarking methodology to ensure competitive, fair, and justified salaries in the government
Matthias Rieker – Communications Director [email protected]
Sylvette Santiago – Deputy Communications Director [email protected]
Phone: (787) 641-0001
Email: [email protected]
Budget Reapportionment
Public Meetings
Fiscal Plans
Contract Review
FOMB Contracts
FOMB Reports
Plagiarism scanner DO THE CHECK
Writing help ASK FOR HELP
Read my essay GO TO READ
Sample details
Essays Database,
Examination
Words: 1117
Related Topics
Crime scene
School shooting
Organized crime
Crime Prevention
Serial Killer
Juvenile Crime
Charles Manson
Police Brutality
Criminal Justice
Sexual assault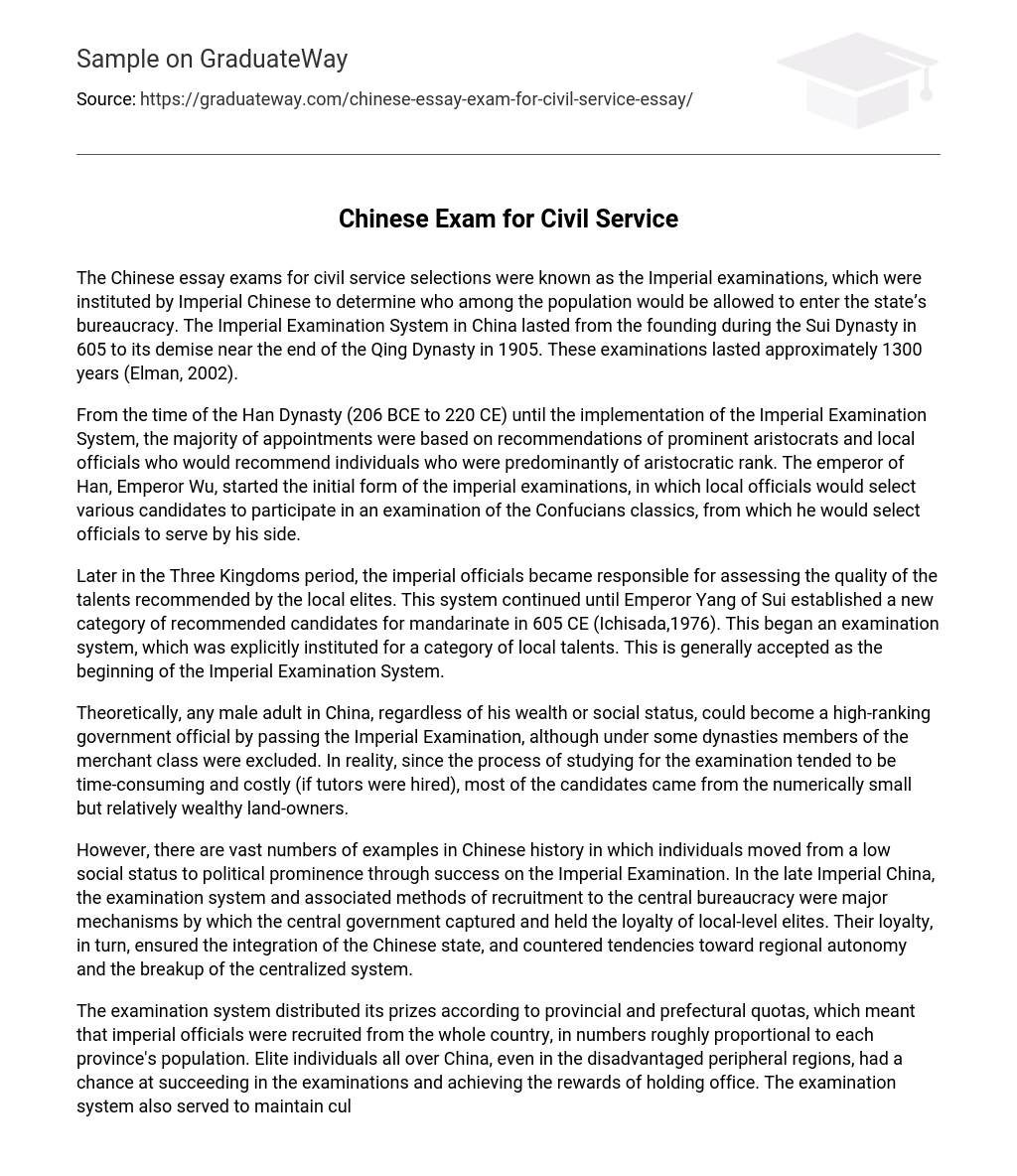 Chinese Exam for Civil Service
The Chinese essay exams for civil service selections were known as the Imperial examinations, which were instituted by Imperial Chinese to determine who among the population would be allowed to enter the state's bureaucracy. The Imperial Examination System in China lasted from the founding during the Sui Dynasty in 605 to its demise near the end of the Qing Dynasty in 1905. These examinations lasted approximately 1300 years (Elman, 2002).
From the time of the Han Dynasty (206 BCE to 220 CE) until the implementation of the Imperial Examination System, the majority of appointments were based on recommendations of prominent aristocrats and local officials who would recommend individuals who were predominantly of aristocratic rank. The emperor of Han, Emperor Wu, started the initial form of the imperial examinations, in which local officials would select various candidates to participate in an examination of the Confucians classics, from which he would select officials to serve by his side.
124 experts online
Later in the Three Kingdoms period, the imperial officials became responsible for assessing the quality of the talents recommended by the local elites. This system continued until Emperor Yang of Sui established a new category of recommended candidates for mandarinate in 605 CE (Ichisada,1976). This began an examination system, which was explicitly instituted for a category of local talents. This is generally accepted as the beginning of the Imperial Examination System.
Theoretically, any male adult in China, regardless of his wealth or social status, could become a high-ranking government official by passing the Imperial Examination, although under some dynasties members of the merchant class were excluded. In reality, since the process of studying for the examination tended to be time-consuming and costly (if tutors were hired), most of the candidates came from the numerically small but relatively wealthy land-owners.
However, there are vast numbers of examples in Chinese history in which individuals moved from a low social status to political prominence through success on the Imperial Examination. In the late Imperial China, the examination system and associated methods of recruitment to the central bureaucracy were major mechanisms by which the central government captured and held the loyalty of local-level elites. Their loyalty, in turn, ensured the integration of the Chinese state, and countered tendencies toward regional autonomy and the breakup of the centralized system.
The examination system distributed its prizes according to provincial and prefectural quotas, which meant that imperial officials were recruited from the whole country, in numbers roughly proportional to each province's population. Elite individuals all over China, even in the disadvantaged peripheral regions, had a chance at succeeding in the examinations and achieving the rewards of holding office. The examination system also served to maintain cultural unity and consensus on basic values.
The uniformity of the content of the examinations meant that the local elites and ambitious would-be members of those elites across the whole of China were taught with the same values. Even though only a small fraction (about 5 percent) of those who attempted the examinations passed and received titles. Those who failed to pass—most of the candidates at any single examination—did not lose wealth or local social standing; as dedicated believers in Confucian orthodoxy, they served, without the benefit of state appointments, as teachers and managers of local projects, such as irrigation works, schools, or charitable foundations.
The examination takers were tested on their proficiency in the "Six Arts". The "Six Arts" included scholastic arts (music, arithmetic, writing, and knowledge of the rituals and ceremonies in both public and private life) and militaristic which consisted of archery and horsemanship. The curriculum was then expanded to cover the "Five Studies" to include military strategy, civil law, revenue and taxation, agriculture and geography and the Confucian classics. In this form, the examinations were institutionalized during the sixth century CE, under the Sui Dynasty.
These examinations are regarded by most historians as the first standardized tests based on merit (Man-Cheong, 2004). By 1370, the examinations lasted between 24 and 72 hours, and were conducted in spare, isolated examination rooms. The small rooms featured two boards which could be placed together to form a bed or placed on different levels to serve as a desk and chair. In order to obtain objectivity in evaluation, candidates were identified by number rather than name, and examination answers were recopied by a third person before being evaluated to prevent the candidate's handwriting from being recognized.
The candidate who scored number one on the exams could be colloquially described as the one who "seized the head of Ao" (the legendary giant turtle whose legs hold the sky), or who "stood alone on the head of Ao". The Imperial examination system was abolished with the foundation of the Yuan Dynasty, but was revived in 1315 by Emperor Renzong of Yuan. It thrived under both the Ming and Qing dynasties. The Taiping regime was the first in Chinese history to admit women as candidates in the examination system, although they abandoned the system later..
With the fall of the Qing in 1911, Dr. Sun Yat-Sen, the leader of the newly risen Republic of China, developed similar procedures for the new political system through an institution called the Examination Yuan, one of the five branches of government, although this was quickly suspended due to the turmoil in China between the two world wars, such as the warlord period and the Japanese invasion. The Kuomintang administration revived the Examination Yuan in 1947 after the defeat of Japan.
This system continues in Taiwan along with the regime itself after loss of the mainland to the Communist Party of China. The Chinese Imperial examination system had extensive influence throughout East Asia. It was modeled by the Goryeo Dynasty and Joseon Dynasty in Korea until its annexation by Japan (Yang Guo-yi, 2005). The Chinese Imperial examination system had important influences on the Northcote-Treveyan Report and hence on the reform of the Civil Service in British India and later in the United Kingdom.
With the Chinese interest in assessing individual differences for thousands of years, the development of early psychological measurement to the arrival of modern psychometric techniques in the early 20th century followed. Since the end of the Cultural Revolution in the 1970's, the need for psychological measurement has been increasingly recognized particularly because of the need in the fields of clinical and educational practice. As a result, there are now many university courses for training testing professionals throughout the world.
Psychological testing is now used in education, mental health, and increasingly in personnel selection. The expanding market economy means that the effective process for selection of managers in business and industry are essential. As in many other scientific fields, progress in psychometric testing and psychological measure of individual differences will make an improvement to continued rapid economic progress in the 21st century.
This essay was written by a fellow student. You may use it as a guide or sample for writing your own paper, but remember to cite it correctly . Don't submit it as your own as it will be considered plagiarism.
Choose skilled expert on your subject and get original paper with free plagiarism report
Chinese Exam for Civil Service. (2018, Jun 17). Retrieved from https://graduateway.com/chinese-essay-exam-for-civil-service-essay/
You may also find these documents helpful
Chinese Medicine Chinese MedicineTraditional
To Be CIvil or Not to Be Civil Short Summary
AP NSL Government Civil Rights and Civil Liberties
Police Civil Service Commission
Evaluate the Role and Benefit of Self-Service Technology to Service Retailers
United States Declaration of Independence: Exam Questions
Example of a History Exam
Biology Exam Test on Safety
Managerial Economics Exam questions

Hi, my name is Amy 👋
In case you can't find a relevant example, our professional writers are ready to help you write a unique paper. Just talk to our smart assistant Amy and she'll connect you with the best match.

American History (3,981)
Biographies (2,675)
Book Reports (5,067)
Business (8,525)
English (7,265)
History Other (4,905)
Miscellaneous (6,640)
Music and Movies (2,693)
Philosophy (2,801)
Psychology (3,461)
Religion (2,383)
Science (4,476)
Social Issues (5,999)
Technology (3,885)
Browse Essays
/ American History
/ Pendleton Civil Service Act
Pendleton Civil Service Act
Essay by review • August 21, 2010 • Essay • 442 Words (2 Pages) • 2,727 Views
Essay Preview: Pendleton Civil Service Act
Since the beginning of the government, people gained and lost their jobs whenever a new president took office. These jobs were political pay-offs for people who supported them. Many people did not take their jobs too seriously because they knew they would be out of their office soon. As Henry Clay put it, government officials after an election are "like the inhabitants of Cairo when the plague breaks out; no one knows who is next to encounter the stroke of death." Over the years the flaws that were made and the problems that resulted became more obvious. After an election you could open a newspaper and find many advertisements, which offered government jobs that were filled before the election.
On January 16, 1883 the U.S. legislation established a law, which gave employment based on merit rather than on political party affiliation that leads to corruption in the government system. Widespread public demand for reform in the government was stirred after the Civil War by accusations of incompetence, corruption, and theft in federal departments. After a guy who was refused an office job that he was capable of assassinated President James A. Garfield in 1881, civil service reform became a leading issue in the elections of 1882. In January 1883, Congress passed a comprehensive civil service bill sponsored by Senator George H. Pendleton, providing for the open selection of government employees and guaranteeing the right of citizens to compete for federal jobs without regard to politics, religion, race, or national origin. The new law covered only about 10 percent of the positions in the federal government, but nearly every president after Chester A. Arthur, who signed the bill into law, broadened its scope. By 1980 more than 90 percent of federal employees were protected by the act.
The Pendleton Civil Service Act classified certain jobs, removed them from the ranks, and set up a Civil Service Commission to oversee a system based on merit and not political stance. The commission draws up the rules governing examinations for those positions that Congress places in the classified civil service. As the list of jobs overseen grew over the years, it provided the government with a competent, more efficient government system. By the time McKinley became president in 1897, 86,000, almost half of all federal jobs, were in classified positions. Today, nearly all-federal
(2010, 08). Pendleton Civil Service Act. ReviewEssays.com . Retrieved 08, 2010, from https://www.reviewessays.com/essay/Pendleton-Civil-Service-Act/315.html
"Pendleton Civil Service Act" ReviewEssays.com . 08 2010. 2010. 08 2010 <https://www.reviewessays.com/essay/Pendleton-Civil-Service-Act/315.html>.
"Pendleton Civil Service Act." ReviewEssays.com . ReviewEssays.com, 08 2010. Web. 08 2010. <https://www.reviewessays.com/essay/Pendleton-Civil-Service-Act/315.html>.
"Pendleton Civil Service Act." ReviewEssays.com. 08, 2010. Accessed 08, 2010. https://www.reviewessays.com/essay/Pendleton-Civil-Service-Act/315.html.
Cookies on GOV.UK
We use some essential cookies to make this website work.
We'd like to set additional cookies to understand how you use GOV.UK, remember your settings and improve government services.
We also use cookies set by other sites to help us deliver content from their services.
You have accepted additional cookies. You can change your cookie settings at any time.
You have rejected additional cookies. You can change your cookie settings at any time.

Government reform
Civil service reform
Civil Service Reform plan: progress report
Cabinet Office
Civil Service reform
Civil Service Reform: progress report
Updated 7 October 2014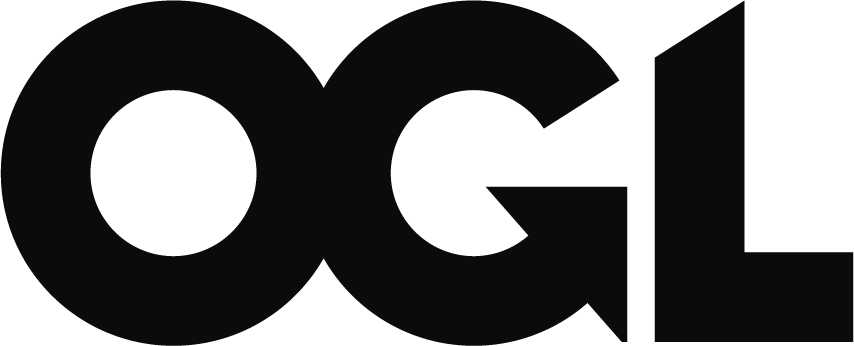 © Crown copyright 2014
This publication is licensed under the terms of the Open Government Licence v3.0 except where otherwise stated. To view this licence, visit nationalarchives.gov.uk/doc/open-government-licence/version/3 or write to the Information Policy Team, The National Archives, Kew, London TW9 4DU, or email: [email protected] .
Where we have identified any third party copyright information you will need to obtain permission from the copyright holders concerned.
This publication is available at https://www.gov.uk/government/publications/civil-service-reform-plan-progress-report/civil-service-reform-progress-report
What is the Civil Service?
The Civil Service exists to serve the government of the day. Civil servants are accountable to ministers and, primarily through them, to Parliament. Many civil servants advise ministers, while most have jobs that directly serve the public. The Civil Service occupies a unique position because of this clear ministerial and Parliamentary accountability, underpinned by a strong ethos of public service.
The Civil Service is a permanent institution, with robust and long-standing professional values which govern how it operates. These professional values – objectivity, honesty, impartiality and integrity – enable UK civil servants both to serve governments of different hues over time and different governments in London, Edinburgh and Cardiff. Those same values also govern civil servants' dealings with the public, and underpin the trust placed in civil servants to advise on or decide issues without any personal favour or prejudice.
Serving the government of the day and being able to serve future administrations
The Civil Service is sometimes said to be "independent" or "neutral". It is neither. It is wholeheartedly committed to serving the elected government of the day in devising and implementing its programme. What is internationally unusual and often envied is the service's ability to preserve its impartiality so that it can transfer seamlessly its expertise, commitment and loyalty to a government of a different political make-up tomorrow.
Preserving that ability depends on 2 things:
First, civil servants must act in a way which earns and retains the confidence of ministers, while at the same time ensuring that they will be able to establish the same relationship with those whom they may be required to serve in some future government. This means taking care not to become politically partisan in the provision of advice and operations. But first and foremost it means dealing competently and straightforwardly with current ministers as the best way of demonstrating that future ministers will enjoy the same support. The most successful and productive ministerial/official partnerships are based on open debate, candid advice and challenge. This is essential for clear, well-evidenced decisions. Discomfort over value for money and implementability should be handled by way of an open discussion and, if necessary, a Ministerial Direction. But once a ministerial decision has been taken, civil servants have a professional duty to make a reality of that decision. There should be no delay, fudge or ambiguity. The government's democratic mandate persists until the day that it is removed by the electorate or by the House of Commons.
Second, officials must ensure that they and their colleagues sustain the skills and capability of the Civil Service to serve current and future governments equally well. It will be unusual for ministers to see any tension between the requirements of current government policy and the actions needed to develop the service's capability. But time and resources are scarce, and in the event that the permanent head of a civil service organisation thinks that his/her organisation's professional capability is being seriously eroded by current Ministerial priorities or decisions, then that Accounting Officer should seek a Ministerial Direction.
The case for Civil Service Reform
The Civil Service's professional framework and values command cross-party support in the UK and respect internationally. The Civil Service employs, and continues to attract, some of Britain's most talented people – across professions and grades. The Civil Service has delivered many extraordinary things against a backdrop of reducing budgets and headcount. But as with any successful and long-standing organisation, there is always considerable room for improvement. Too often, great civil servants are held back from delivering to their full potential for Britain by structures and processes that are old-fashioned and rigid, tools and training that are not up to the job, and a culture that does not consistently encourage innovation and openness. Ministers and the leadership of the Civil Service cannot afford to rest on their laurels.
Increasing the pace
Since the publication of The Civil Service Reform Plan in 2012, there has been real progress towards the government's vision of a service that is more skilled, less bureaucratic and hierarchical, and more unified. Indeed, in the last year it is striking how many of the ideas and principles behind the plan are being adopted by enterprising and enthusiastic civil servants. We are proud of this achievement and salute those who have made it happen. But ministers and Civil Service leaders know there is much more to be done, and that any 21st century organisation not constantly improving is, in reality, slipping back. The government is therefore not defensive about informed commentary on and criticism of the pace and depth of Civil Service reform. Indeed, we welcome the encouragement to step up the pace.
Crucial to embedding creativity, innovation and continuous improvement throughout the Civil Service is to develop its culture so that these traits are fostered and rewarded. Changes in culture require strong, coherent leadership. There needs to be clear, collective Civil Service leadership, focused on performance and competence, and every bit as up for changing the Civil Service as are civil servants deeper in the organisation. This is the top priority for the incoming Chief Executive and Head of the Civil Service, working closely with Ministerial and official colleagues to achieve it.
Rt Hon Francis Maude MP, Minister for the Cabinet Office
Sir Jeremy Heywood, Cabinet Secretary and Head of the Civil Service
Introduction
In 2012, we published a plan to reform the Civil Service . Our objective was clear: a Civil Service that was smaller, more efficient, more skilled, more open and less bureaucratic. In short, a Civil Service better able to deliver for Britain. Our plan had 18 headline actions and in 2013, One Year On , we published an honest assessment of our progress. While the Civil Service was providing effective support to the Coalition Government in implementing a radical government programme, and while it was managing to do this with fewer people and at lower cost, progress on the reform agenda was falling behind. Our overall assessment was that we had not put sufficient leadership or resources into mobilising behind the Reform Plan. Role modelling the transparency we were calling for across government, we published honest red/amber/green (RAG) ratings against all actions. We made clear both our dissatisfaction and our commitment to re-double efforts and step up the implementation of reform. The prize was – as it remains – too important to scale back on our ambitions.
A year on, the picture is different. Progress on the reform agenda has accelerated in the second year of our programme and change is happening on the ground.
First, we have continued to focus on the letter of the actions that we committed to. We have approached this year's report card in exactly the same honest and granular way that we approached last year's assessment. The report card shows an improved position, with more actions completed and fewer reported as significantly off track.
Second, we have focused our leadership and resources on 7 game-changer priorities: CS21, Capabilities, Digital, Major Projects, Open Policy-Making, Functional Leadership, and The Way We Work. In each of these areas, we have challenged leaders in the Civil Service not to be satisfied with the letter of our public commitments but to embrace fully the spirit of the change needed. As our more detailed reporting in the chapters which follow shows, the Civil Service is responding to that challenge.
Third, we have always known that our reforms would only truly stick when they started to embed within departmental plans and to impact on the working lives of civil servants across the country. At this year's Civil Service Live events , bringing together thousands of civil servants in Bristol, Liverpool, Newcastle and London, the discussion around Civil Service reform was not 'whether' but 'how'; and, then, 'what next' to meet the challenges of the future. People across the Civil Service shared at those events the actions they were taking in their own teams to create a modern Civil Service in which people can realise their full potential, take ownership of their work and truly be of service to the public.
Modern Civil Service
In spite of this acceleration, there is much more still to do in the key areas before we can say the ambition of the reform agenda has been realised. We must complete the actions we set out in our reform programme 2 years ago, embed change in the game-changer priority areas, and map out future reforms commensurate with the challenges we face. In particular, it is apparent that insufficient change has been made to the culture of the Civil Service. Greater effort and stronger leadership is required in these areas to deliver the culture of continuous improvement needed to deliver a modern organisation ready to tackle the challenges of the future.
In recognition of the scale of the challenge, the Prime Minister announced in July the creation of a new full-time post of Chief Executive of the Civil Service . Once appointed, the Chief Executive – who will have a strong track record of delivering organisational transformation in the private sector – will work with the Cabinet Secretary and Head of the Civil Service to make a reality of the government's ambitious efficiency and reform programme and ensure that the continuity of reform is not broken and decisions are not unpicked or fudged. We need to ensure that these reforms are here to stay, and develop longer term plans for the continuing regeneration of a Civil Service fit for the 21st century.
So in addition to completing the specific actions still outstanding from the Reform Plan, the priorities for the remainder of 2014 and 2015 will be as follows.
Tackling the cultural issues that still hold the Civil Service back from providing the best service it can – to ministers and to the public. We need culture change that supports innovation, challenges the bias to inertia, makes us more receptive to relevant experience from other organisations so that all parts of the Civil Service are as good as the best, and makes the most of the formidable talents at our disposal, regardless of gender, ethnicity, sexuality or disability. Leadership here is the key. We will develop a new leadership statement making clear the expectations on all leaders within the Civil Service; establish refreshed approaches to learning and development, performance and talent management systems aligned behind that statement; and take steps to encourage more collective leadership of the Civil Service, working across departmental boundaries, starting with a newly-reinvigorated Civil Service Board.
Taking urgent action to fill the critical skills gaps in the Civil Service. These include:
digital skills, for example, with the use of the new digital recruitment hub within the Government Digital Service ( GDS ) and expansion of the Department for Work and Pensions' ( DWP ) Digital Academy
project management skills, where we are extending the availability of high quality development packages to the next generation of project and programme management specialists
commercial and contract management skills where gaps are most acutely felt. To help close the key capability gaps, by April 2015 we will move to the presumption that for Senior Civil Service ( SCS ) appointments below Permanent Secretary level are open to external candidates as well as civil servants
Taking urgent action to remove the barriers which stop talented people fulfilling their potential. We have published our diversity strategy, Talent Action Plan: Removing Barriers to Success , which responds in part to an external report commissioned to explore the barriers facing talented women in the Civil Service. Permanent secretaries have committed to the urgent implementation of this plan. The plan also announces the commissioning of further work to look at the barriers facing other under-represented groups. The Talent Action Plan, addresses recommendations by Lord Browne and others. There will now be a far greater leadership focus on identifying and bringing on talent and succession planning.
Planning our next steps on digital and technology. We will continue with our programme of work transforming the 25 exemplar services. But there is further to go – in the same way that we have transformed the citizen's interaction with government information through GOV.UK , we will now transform many more interactions with the state. Therefore we will focus on our future digital and technology strategy to ensure that government keeps pace with digital transformation. Our plans will include further improvements to our digital service delivery to the public, setting ambitious goals for increasing the proportion of transactions with the public which are completed online, and on ensuring that civil servants have access to technology which is fit for a modern workplace.
Embedding Functional Leadership – realising the efficiency savings to be gained from the central delivery of cross-government professional services and formalising the role of Heads of Function in leading their profession and raising professional standards. This will be one of the new Chief Executive's core tasks.
We said we would pick up the pace of delivery and we have. Reform is moving from a plan on paper to a reality being delivered and experienced by civil servants across Britain. To meet this challenge, all civil servants must think about the services that they deliver and seek to make it the best possible service – faster, simpler, more efficient – for the end user.
We will complete outstanding actions in the current plan while developing the next steps. This will always be a work in progress. If we do so successfully, it will put the Civil Service in the best possible state of readiness to respond swiftly to the needs of future governments and their programme of reform.
But beyond that, we also recognise that, in an ever-changing and more challenging environment, any organisation which is not constantly pressing and impatient for change will fail to keep pace and fall behind. Indeed, part of the culture we are seeking to instil is one where the need for constant change, improvement and regeneration is embraced not just by every leader but by every member of the Civil Service who takes pride in the job they do for Britain.
Reform across government
CS21: A Civil Service for 21st Century
Tackling cultural issues which prevent the Civil Service from providing the very best service to ministers and the public is essential. We have embedded the competency framework but have gone beyond that, seeking the views of hundreds of civil servants on the culture and behaviours that they take pride in and want to retain for the future and the culture and behaviours which are getting in the way of delivering the best for the public and which need to change. Changing culture is a long term task and starts with our leaders – we are now committing to developing a clear leadership statement setting out our expectations of all Civil Service leaders, given effect through our leadership development training and our performance management systems.
Changes to structures, systems and processes are necessary to ensure that the Civil Service is fit for the future; but they are not sufficient. As with any large and complex organisation needing to reform, it is the culture and behaviours of people throughout the organisation, coupled with unified leadership, that will make the difference between success and failure in the longer term.
As the Civil Service changes – open policy-making becoming the norm, digital by default, new forms of partnership with the private sector, commercial acumen valued as much as policy skills, greater interchange with industry – so over time will its culture. But it is not enough to wait for these changes to shape the culture. We must take conscious action to create the culture we want and to develop the leadership we need to meet the challenges of the future.
Case Study: DWP - shared vision, shared success
The DWP is the largest government department, delivering critical services to around 22 million people whilst managing demanding targets for cost reduction across all its agencies.
The key factor in enabling the department to deliver more with less has been the development of the 'One DWP ' programme and the ' DWP Story' – engaging staff across all organisational boundaries and reflecting the efforts of the department's leadership to communicate a singular, shared vision.
To support our ambition, we acknowledge that we need to develop great leaders at every level in the department. As a result, 35 of the DWP 's most senior leaders have been engaging in face-to-face conversations with 5,500 frontline leaders to encourage, inspire and refine our shared vision of public service delivery; since 2012 the DWP has organised 120 such sessions three times a year to reinforce the 'One DWP ' Story.
The DWP Story has harnessed the energy, innovation and commitment of the department's 100,000 staff to cut costs whilst simultaneously improving levels of service. Alongside the introduction of new technologies, staff have delivered remarkable efficiencies.
Not only has this strategy helped improve performance, but DWP 's staff engagement has also risen from 44% to 54% in 2 years, and sickness absence has been cut nearly 40%, to levels now better than private sector benchmarks.
DWP : Raising the roof
In the Civil Service Reform Plan we said that we would put a single competency framework in place across the organisation. This was in place for the beginning of 2013/14 and its significance should not be underestimated: it was a powerful signal that while we may work within departments we are all part of a single Civil Service bound by a common set of values. On a simpler level, it also made it easier for people to move between departments and to understand other people's roles.
However, this fell short of an honest examination of the cultural and behavioural change which is needed to make the Civil Service a fit and high performing organisation for the 21st century – and which our people recognise and want to see. This year we have talked to hundreds of people from across the Civil Service, in different departments, at different levels and in different cities. We asked them to identify elements of our culture which people value and want to protect and retain for the future; and elements of the culture and behaviours they see which need to change. The feedback and comments people gave us have then been distilled into high-level observations on what most people felt should be retained or changed.
They highlighted our public service ethos and the strong levels of pride which civil servants feel in their work and the positive impact it has on communities and individuals. They talk about the high levels of public trust in our truthfulness, and the core values of honesty, integrity, impartiality and objectivity which are the hallmarks of the British Civil Service system. The Service's ability to preserve its impartiality is internationally unusual and often envied throughout the world.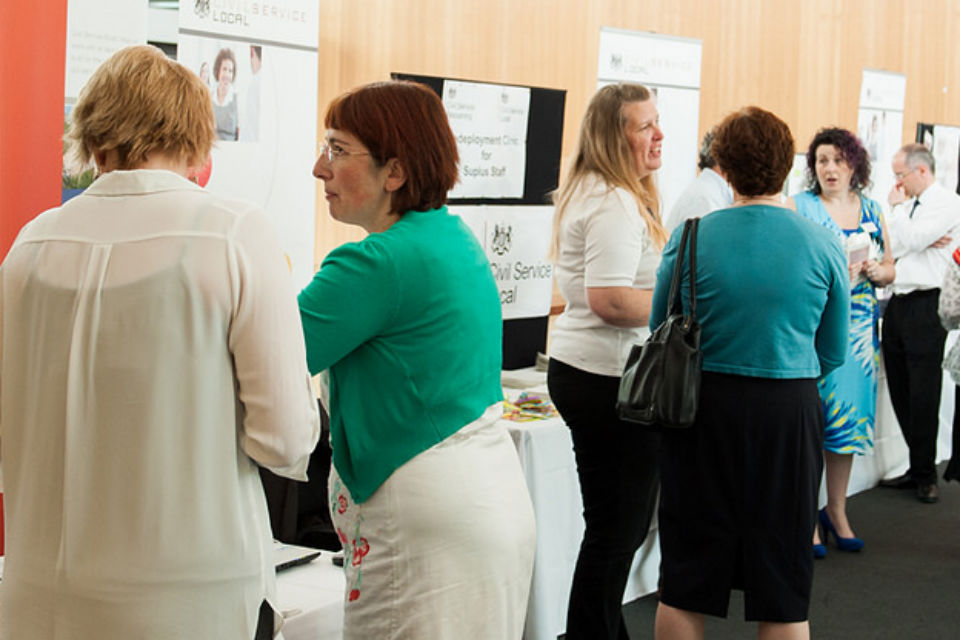 Civil Service Local out and about meeting civil servants
People also talked about the strong intellect and a 'Whitehall brand' which still attracts the best and the brightest from our top universities. New and long-standing civil servants alike view the intellectual challenge and the breadth and diversity of the Civil Service as positive attributes. Opportunities to move sideways and the genuine commitment to flexible working are highlighted as often better compared to experiences of the private sector. And increasingly they highlight examples of innovation, high performance and delivery. In driving the culture changes we want to see, it is important that these successes are acknowledged and celebrated. We will continue to identify and reward success through the annual Civil Service Awards that showcase the very best of the Civil Service.
There is plenty, however, that people want to change. They see too much grade deference and hierarchy; they do not feel safe to challenge those above them, either Civil Service leaders or ministers. Some feel that their ways of working are too closed, introspective and risk-averse, others that diversity and difference are not always valued in practice, or that sometimes people are promoted because they fit rather than break the mould. There are some externally-recruited civil servants who find the culture a welcoming and friendly one, where their external perspective is highly valued; but others talk about a "clubby", closed shop mentality that takes too little interest in the insights that incomers can bring from their previous organisations. We take all of these views seriously. We must do more to empower civil servants by giving them more clarity about their space to operate. Most concerning of all, the Hay Report cited examples of anti-collaborative behaviour being rewarded, bullying not always tackled robustly, and senior managers and leaders who sometimes appear to act counter to the expressed values of the Civil Service.
Key cultural indicators within our People Survey offer us metrics which give quantitative expression to this qualitative feedback.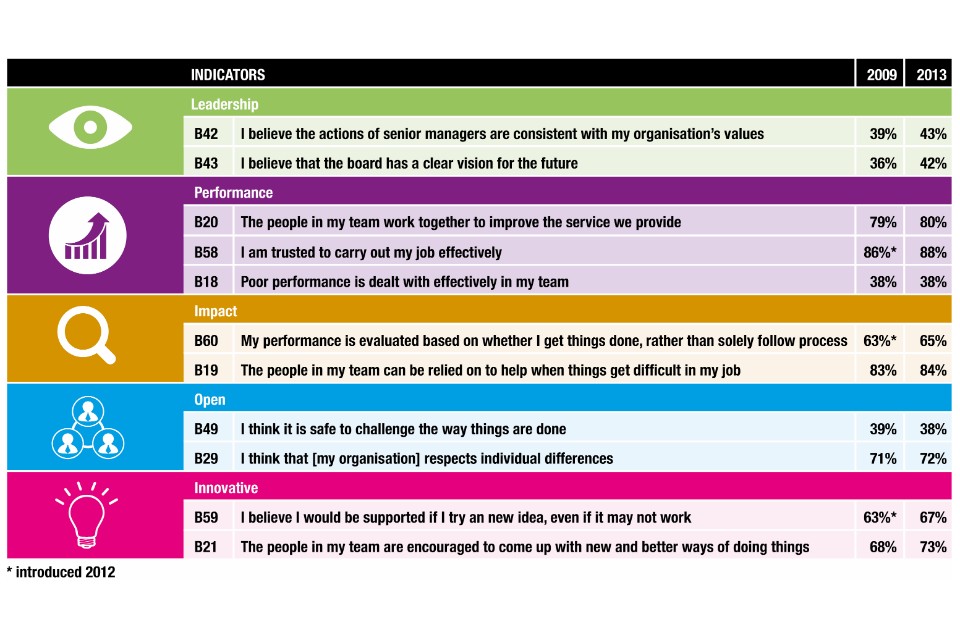 Key cultural indicators within our People Survey
People care deeply both about elements they want to protect and retain, and about elements they want to change; and they are ready to play their part in making change happen. There are some great examples in departments of creative ways in which culture change is being driven, both by leaders in departments and by groups of people who are enthusiastic for change.
Case study: The Department for Business, Innovation and Skills' ( BIS ) - #safetochallenge
BIS is working with staff to spread the message that constructive challenge can be a big part of improving performance and building a culture of openness
The hashtag #safetochallenge is all about giving staff the confidence to use 'challenge' in their day to day work. A number of initiatives were introduced gently, giving staff the opportunity to decide what they'd find useful, and allow new ideas to spread organically. This included the use of #safetochallenge in meetings and emails to depersonalise and take the heat out of issues that can be difficult to raise. Also a new Manager's Charter makes clear that 'I create a safe environment for open discussion and constructive challenge' is an essential part of every managers' role.
Initiatives so far are already having an impact. Some early positive results have been seen in the most recent People Survey, and BIS are assessing what more might be done to ensure all staff feel safe to challenge.
Case study: HM Revenue & Customs ( HMRC ) - building our future
Since June 2013, we've been talking about transforming HMRC to meet our objectives of bringing in more revenue and cutting our costs, while improving services for the taxpayer. This includes serving more customers online, reducing some of our more routine work and building compliance into everything we do.
From the start, we've known that this will mean huge changes to the way we work.
'Building our future' is a face-to-face conversation we've started with all staff. It's about how we're going to transform up to 2020 and beyond, and what this means for our customers, our performance and staff.
The idea is to make sure everyone understands where HMRC is going and why – and for everyone to have a voice in how we build that future now rather than waiting until everything is signed and sealed.
The conversation started with our top 560 leaders who in turn have had conversations with our wider leadership and management population. Now those leaders and managers are talking to their staff.
This approach is all about talking and listening. We know from the feedback that our people feel more included and part of what is happening:
Much better than reading from the intranet!
I appreciate the honesty of the approach; this is the first time the executive team has been open in their message about HMRC change
I like having the chance to have a say about what needs improving within the department
This is an opportunity to feel part of the future
There will be more conversations as the thinking on transforming HMRC develops.
Case study: Department of Health's ( DH ) - connecting to the frontline
The DH 's Connecting to the Frontline programme reflects the Civil Service of the future – more skilled, more open, and working across teams and departmental boundaries. 
The Civil Service Reform Plan states "Every day we must ask, are we doing things better for the people we serve?" DH staff consider this question every time they go connecting – shadowing clinical staff and carers and talking to patients and service users in a wide range of health and care settings.
DH officials are learning about patient and service user experience – seeing what works, what could be done better. Feedback is shared through debriefs, blogs , and across directorates. Shared learning helps in exploring key issues further and making future recommendations.
Best practice models are being established – connecting is incorporated into inductions, objectives, Personal Development Plans. New ways of working are also being developed – SCS are managing workloads to allow for 20 days connecting each year and developing flexible teams to support them. 
DH 's SCS have spent over 1,800 days connecting so far; the number of staff who feel their work is influenced by patients has increased by 8 percentage points. And over 80% of our connecting partners say they have a better understanding of DH .
My connecting story: Joanne Evans
Future reform
We have already created a network across departments, meeting face-to-face and using digital networking tools, to learn from and spread best practice. We will continue to nurture our networks and other self-organising networks so that they can act more effectively as informal, non-hierarchical means of challenging and influencing the traditional management structures. As part of this, each department will run an accelerated decision-making process where people who are close to the business analyse a critical business issue and develop recommendations for improvement. The chosen solution will be presented to a panel of senior leaders who will be asked to make a clear decision on the recommendation clearly, publicly and 'on the spot'.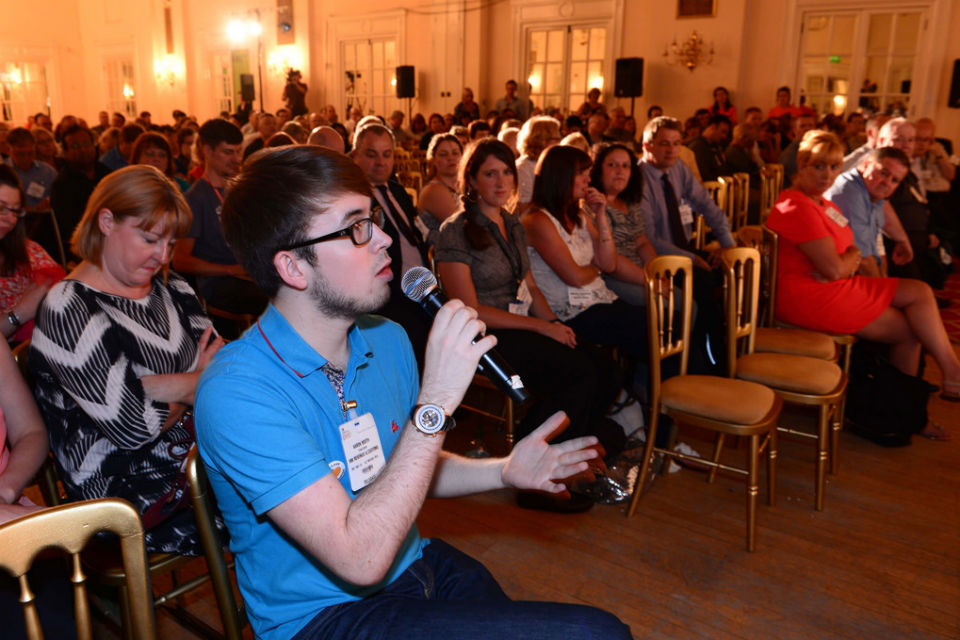 Questions at Civil Service Live
We recognise, however, that culture changes embed most quickly when driven and role-modelled by senior leaders. This was the clear message of work done on key elements of our culture, including empowerment and 'safe to challenge', by High Potential Stream volunteers, who all stressed the importance of cultural change being driven with clarity and energy from our senior leaders. This has been reinforced by external voices, for instance in the Institute for government's report Leading Change in the Civil Service . We also accept and embrace the message from our people – given clearly in our CS21 workshops, in the Hay Group report Women in Whitehall which was published alongside our Talent Action Plan and indeed in our People Survey results – that senior leaders and managers do not always appear to live the values we claim.
Developing our collective leadership and focusing on behaviour is critical to culture change and to embedding reform. We will develop a comprehensive and unifying leadership approach for the Civil Service. This transparent approach ensures that all staff in the Civil Service understand what the expectations are for the top leadership team. It will include the following elements:
a leadership statement setting out the leadership behaviours expected of all Civil Service leaders. This statement will be developed by and with our most senior leaders, but will reflect the clear messages from our people about the changes in culture and behaviours required to make us fit for the future
refreshed leadership development reflecting the expectations set out in the statement: mandating this development training at certain grades and at key points of transition and aligning the leadership development aspects of our high potential programmes
making an evidence-based assessment of behaviours against this leadership statement, via 360 feedback, a core part of the performance assessment of all individuals within the SCS
building a dataset of metrics on leaders and leadership to monitor and assess progress on improving the leadership of the Civil Service
This new approach will need to be developed, owned and promoted by our most senior Civil Service leaders. But it will need to be agreed by ministers, whose working styles and behaviour inevitably impact on the culture and behaviours at the top of the Service.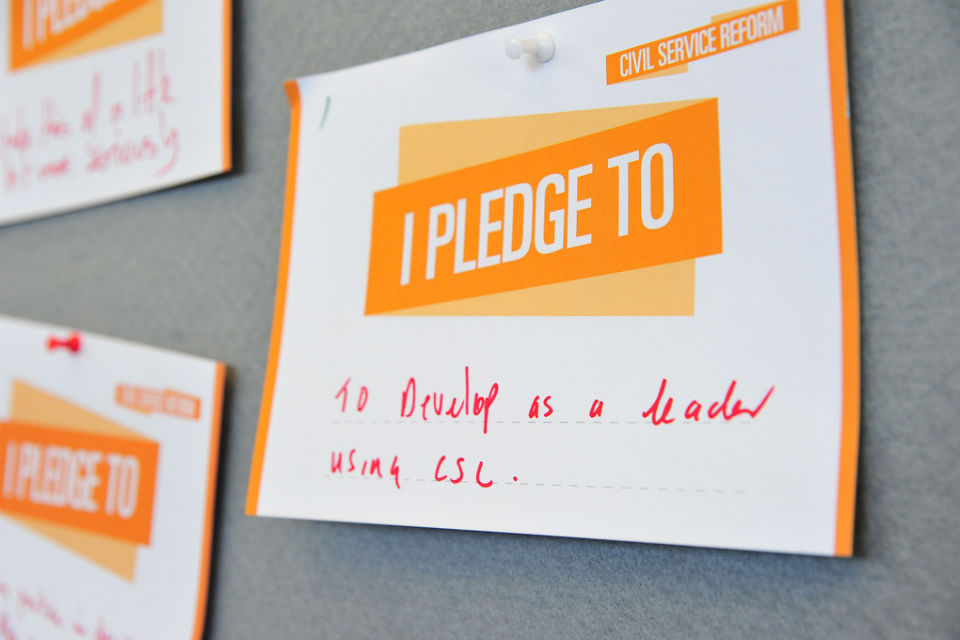 Pledges on reform by Civil Servants
We are also committing to take further actions recommended by the work done by High Potential Stream volunteers on leadership, empowerment, 'safe to challenge', professions and career paths:
we will undertake pilot effectiveness reviews of 2 to 3 executive boards, mirroring those already undertaken in relation to departmental boards
we will draw the lessons from the private sector case studies on 'empowered accountability' and set up 2 to 3 pilots within small units to test new approaches to setting and articulating objectives and 'freedom to operate' for each role
we will set up an alumni network for those who have left the SCS or High Potential Streams as an asset for generating further outward secondment opportunities, promoting the Civil Service as a career, and encouraging a more open interchange with the private sector
we will complete entry and exit interviews for those coming in from (and moving back out to) the private sector to improve induction to ensure that we draw fully on their experience of their previous organisations
we recognise that we must do much more to encourage the flow of people between the Civil Service and other sectors in order to benefit from external expertise and to give our people wider external experience. We will work with departments to maximise the mechanisms in place for moves, such as secondments. The Civil Service can only benefit by people taking up roles elsewhere, to return with experience accrued of different ways of working
we will strengthen the Heads of Profession as part of our Functional Leadership agenda; we will also begin a longer-term piece of work on whether we could move to a gradeless, or radically de-graded, Civil Service
alongside this, we have commissioned an external piece of work looking at the experience of external hires to the SCS and considering how we can better make sure new external recruits are given the chance to flourish in this environment. This will report towards the end of 2014 and we are committing to take action on the recommendations.
Finally, engaging future leaders from the High Potential Stream in tackling questions on the future of the Civil Service is in itself intended to support the cultural shift away from departmental siloism towards a more unified Civil Service. Tackling questions of this kind will in the future form a core element of the development of members of the High Potential Stream.
Capabilities
Critical skills gaps remain in all 4 areas of priority – digital, project management, commercial and leadership – and action to fill those gaps remains an urgent priority. The new digital and commercial recruitment hubs and the programme led by the Major Projects Leadership Academy (MPLA) are ensuring that there is sustained action to address these gaps. Therefore, the priority focus for 2014/15 will be on the commercial and contract management skills where the gaps are most acutely felt. To help close the key capability gaps, by April 2015 we will move to the presumption that SCS appointments below Permanent Secretary level are open to external candidates as well as civil servants. A further priority is taking urgent action to remove the barriers which stop talented people fulfilling their potential – we have published a diversity strategy, the Talent Action Plan: Removing Barriers to Success, and will publish a refreshed Talent Strategy within a year.
Our people are the Civil Service's most significant resource. They deliver services, develop policies and manage projects and budgets worth billions every working day. Many of the ideas that have shaped the reform programme have emerged from the creativity, aspirations and frustrations of civil servants themselves.
Investing in their skills underpins successful reform across the Civil Service. In our Capabilities Plan we set out 4 priority areas where individual and organisational capabilities needed to be strengthened as the central plank of the reform agenda:
leading and managing change
commercial skills and behaviours
delivering successful projects and programmes
redesigning services and delivering them digitally
It takes time to develop and acquire specialised capabilities of this kind, and to bring about the necessary change in organisational culture to ensure that this agenda is prioritised. In this, the Civil Service is similar to other large organisations. However, over the year, progress has been made, particularly in the priority areas of digital and project management skills, enabling the foundations of a more capable and professional Civil Service to be laid. We recently published the Capabilities Plan 2014 Annual Refresh which summarises progress on this agenda.
Further reform
Our focus is now:
taking urgent action to fill critical skills gaps – bringing more skilled people in from outside the Civil Service as well as growing our own skills
commercial and contract management where the skills gaps are acutely felt
taking urgent action to remove the barriers which stop talented people fulfilling their potential
continuing to build basic skills and instilling a culture of continuous assessment, learning and development for all our people
Building basic skills and learning for all
This year, every civil servant is expected to undertake and demonstrate learning and development, be that through a formal course or informally through mentoring, as well as learning on the job to improve their capabilities according to their gaps, so they have the full range of skills to do their job successfully, and the gaps within their department or business area. We have made it clear that line managers are expected to support their people in building capabilities, particularly across the 4 priority areas.
BIS : Management matters
This learning has to start from day 1, which is why corporate induction materials on Civil Service Learning will be overhauled by May 2015 and re-launched. Completing probation will depend on showing that these have been read and understood, ensuring that all new joiners have a solid understanding of the core business of the Civil Service. We will draw on the experience of Singapore and make courses on getting the basics right essential for all civil servants. This will include areas such as public finance, parliamentary liaison, the Civil Service's relationship with ministers and a broad overview of how the Civil Service is changing, complementing on the job experience.
There is more to do, however, to improve Civil Service Learning so it becomes the world class development portal we want it to be. We have listened to the feedback on Civil Service Learning and are making improvements so it is easier to use:
passports or learning logs will be introduced making it easy to download and show what learning has been done
we will improve signposting so that people can easily identify relevant learning that matches their capability goals
free text reviews of courses have been introduced to the Civil Service Learning online portal as well as a Trip Advisor style rating system so people can see clearly which courses have the best feedback
the courses getting the best feedback will be advertised more clearly
Taking action to fill critical skills gaps
Our priority skills gaps remain as identified in the Capabilities Plan – leadership (addressed under CS21 above), project management, digital and commercial. We are addressing these capability gaps in 2 ways – bringing skills in from outside the Civil Service, and growing our own.
Bringing more skilled people from outside the Civil Service
We have already attracted some excellent talent from outside the Civil Service. In April 2013, nearly a quarter of all SCS had joined directly from outside the Service, bringing in vital new skills and expertise.
There is more to do, however, to attract the widest range of talent and skills to the top jobs in the Civil Service. To help close the key capability gaps, by April 2015 we will move to the presumption that for SCS appointments below Permanent Secretary level are open to external candidates as well as civil servants.
Case study: attracting external talents to priority areas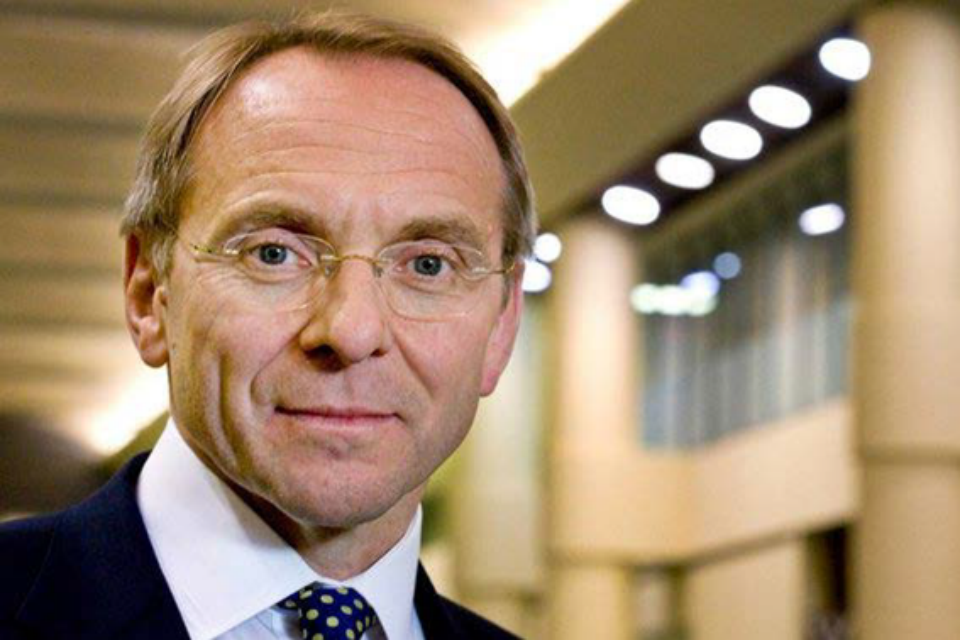 John Manzoni
In February 2014 John Manzoni joined the Civil Service as Chief Executive Officer of the Major Projects Authority ( MPA ). John has an impressive background including a 24 year career with BP and, more recently, as CEO of Canadian oil and gas producer Talisman Energy. Returning project execution capability to government is at the heart of John's vision and he is driving the development of a world-class cadre of project leaders and growing a project delivery profession as his number 1 priority. 
Drawing on his commercial experience, John's approach is one of carefully balancing the challenge and support roles of MPA and working ever more closely with departments to address thorny delivery issues and drive the improved prioritisation of their portfolios of projects. John is already transforming the project delivery agenda in government. His willingness to tackle longstanding issues around accountability, reward and the strategic deployment of project leaders illustrates the benefits of bringing in an external perspective and expertise.
We are targeting measures to bring in skilled people from outside on areas of critical skills gaps. On digital, the GDS now has a recruitment hub to support departments in attracting the right people to technology and digital leadership roles across government.  To date the hub has secured 70 external hires and is currently working with departments to fill 96 positions over the coming months.
The most critical skills gap remains on commercial and contract management.
A Commercial Recruitment Hub has been set up, providing a specialist Whitehall-wide service to attract and deploy talent into the profession. In its first campaign, 40 senior vacancies were filled across 6 government departments. The successful candidates, 68% of whom were from the private sector, bring a broad range of experience from organisations such as Citibank, NPower, NHS England, Network Rail, the BBC, XChanging, AstraZeneca, Natural England, Barclays and Royal Mail, as well as from a number of government departments. Campaigns are also under way to fill 3 Commercial Director roles
In addition, a number of senior commercial leaders from industry are now working with us as Crown Representatives. Drawing on expertise gained from a variety of FTSE 100 and other high profile companies, the 20 Crown Representatives play a key role in helping government to act as a single customer and delivering value for money for tax payers by building strong relationships between government and strategic suppliers and securing savings on major procurement programmes.
Case study: the Commercial Recruitment Hub
Seventeen senior commercial leaders from industry are now working with us as Crown Representatives. Drawing on expertise gained from a variety of FTSE 100 and other high profile companies, the Crown Representatives play a key role in helping government to act as a single customer and delivering value for money for tax payers by building strong relationships between government and strategic suppliers and securing savings on major procurement programmes.
It is so important that we recruit from the best graduates and nurture and develop great commercial skills. I am delighted therefore that from September 2014 we will be recruiting for a specialist Commercial Fast-Stream, with the first cohort in place in 2015. The scheme will provide experience across government departments and the private sector, as well as a professional qualification, and will strengthen the commercial talent pipeline and capability in the Civil Service.
Bill Crothers, Chief Procurement Officer
Growing our own
In addition to bringing in skilled professionals into the Civil Service from outside we want to grow more of our own talent in the key functional specialisms.
In November 2013 we introduced new learning offers in the priority areas and have since seen a huge increase in the number of civil servants completing appropriate training courses. For example, there has been high demand for learning about commercial skills and behaviours, as the graph below illustrates. Similarly, the other 3 priority areas have also seen a large demand for courses, both online and face-to-face. We are expanding the successful Commissioning Academy , doubling the size of the programme to meet an ambitious target of 1,500 participants by 2016.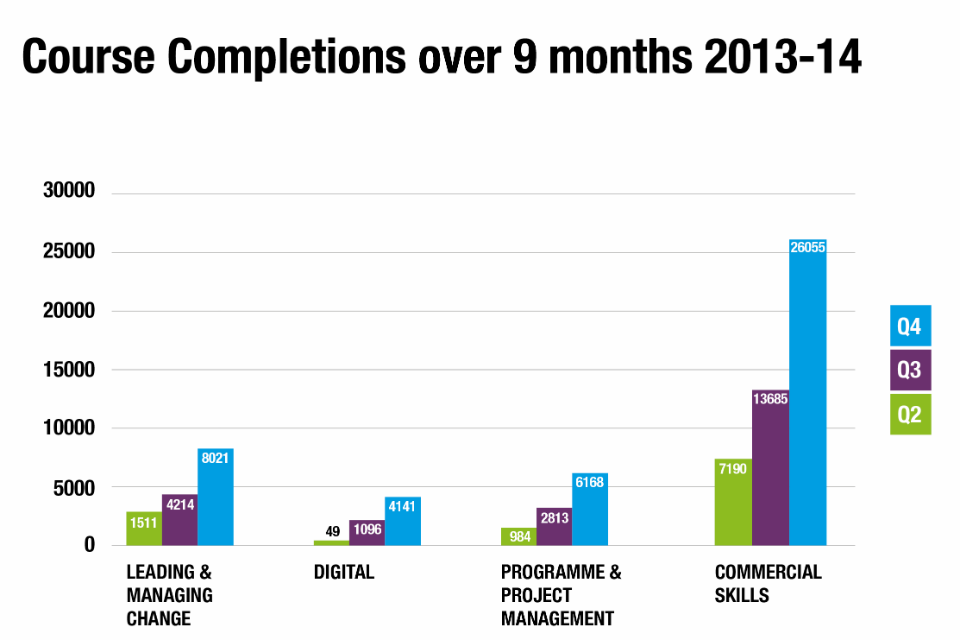 Completion of courses in priority capability areas (new offer introduced in November 2013, part way through Q3)
However, we still need to know if this is having the intended impact. Therefore, by the end of the year we will have refreshed the competency framework self-assessment tool and departments will have completed a second skills assessment. This will provide the data we need to see how we are closing the skills gap in these 4 priority areas.
Case study: Department of Energy & Climate Change ( DECC ) steps to improve commercial awareness
DECC is strengthening the department's commercial capability to deliver specialist corporate finance and energy market knowledge to key policy areas such as Electricity Market Reform, International Climate Finance and the Renewable Heat Incentive.
An external recruitment exercise will shortly be completed but in the interim a core team of 3 recently recruited specialists has been supplemented with 4 secondees from the investment banking and advisory sectors. Already, it is having an impact:
I've been delighted by the response to the recruitment exercise – candidates representing a diverse mix of high-calibre commercial specialists from the financial markets and the energy sector, all really motivated to make a positive contribution to our energy and climate change policies.  I feel confident that the team will go from strength to strength, creating real value for our policy colleagues as we look to secure much needed investment in energy infrastructure.
Jeremy Allen, Head of Commercial, DECC
The improvement plan also focuses on up-skilling generalist policy staff. More than 350 staff have completed DECC 's bespoke commercial awareness programme. The feedback has been tremendously positive, with 80% of delegates saying it has helped improve their performance.
Case study: see how the Driver and Vehicle Licensing Agency ( DVLA ) on digital
Digital DVLA
Case study: DWP 's Digital Academy
DWP 's ground-breaking, fast-moving, and devotedly digital Digital Academy provides intensive bursts of digital training to specific groups across the department. A big message of the programme is that working digitally isn't tricky or even that technical. Rather, it's about working differently and working together for the benefit of the end user.
DWP 's: Digital Academy
This commitment to development extends to the leadership of the Civil Service. Future Permanent Secretaries will be expected to evidence that they have the right mix of skills, including leadership. Those applying for Permanent Secretary posts from inside the Civil Service will be expected – and after summer 2016 required – to have completed an appropriate business school leadership programme in advance of taking up an appointment. This will ensure that leadership skills are prioritised for the top management posts in the Civil Service. Those applying from outside who are unable to demonstrate a strong track record of business leadership will be required either to have already completed a similar programme, or will be willing to complete one early in their tenure. Given the premium we place on this commitment, we will start by immediately sending some of the existing Permanent Secretaries to business school. We will also consider how we ensure the talent pipeline for Permanent Secretary posts has the right mix of commercial and transformational leadership capabilities.
We also know that interchange with other sectors brings our own people valuable opportunities to grow their skills and test themselves in different environments. We have met the target number of outward secondments set for our new secondments and interchange programme for 2013/14. Through this programme, by April 2014, 43 outward secondments, separate to those arranged at departmental level, had been arranged across a range of sectors, with particular success so far in the pharmaceutical, energy, and financial sectors. Both UKTI, and the Cabinet Office ( CO ) partnerships team helped Civil Service Resourcing to identify initial companies to target. This has now been broadened out to include a range of other FTSE 100 and international organisations. This year we are increasing the total number of internal and external secondments through this programme to 100 by April 2015. We know we must do more to encourage the flow of people between the Civil Service and other sectors in order to give our people wider external experience. We will work with departments to maximise the mechanisms in place for moves, including secondments, ensuring momentum builds so movement in and out of the Civil Service is part of a successful career, and it is normal for civil servants to have periods working outside the Civil Service. The Civil Service can only benefit from the experience accrued through interchange and secondments, both inward and outward.
These measures – alongside the role that Heads of Functions are taking to raise standards and capability in the professional communities they oversee (set out below at 7.8) – are improving the skills of current civil servants. But we also have an eye to the much longer term, growing skills in these areas through a number of specialist Fast Streams . For 2015 we have launched 16 Fast Stream schemes, including a refreshed Digital and Technology scheme , and new schemes for Finance, Audit and Commercial . These are now attracting the brightest of the next generation who will develop the skills we need from the very beginning of their careers.
Removing barriers to talented people achieving their potential
Our final priority for our people is in ensuring that talent is identified, developed and retained. This means recruiting and promoting on the basis of merit from the biggest pool of talent available to us, and not excluding people because of their gender, ethnicity, sexuality or disability.
The Civil Service High Potential Stream was launched in July 2013 with the aim of creating exceptional future leaders across the Civil Service. This has been a significant step forward in extending the corporate talent programmes to those at SCS 1 and Grades 6/7 levels. In addition, all Corporate Fast Streamers now have developmental opportunities across the full range of core skills and capabilities needed for our future leadership team.
A recent report by Lord Browne highlighted, however, that there is more the Civil Service can do to make the best use of its diverse talent. This now has to be a priority for change. This will mean adopting consistent talent management principles to develop a cross-Whitehall talent pipeline and improve succession planning, building on the success of the Civil Service High Potential Stream. It will also mean a far greater leadership focus on identifying and bringing on talent and succession planning.
Alongside steps to improve the way in which we identify and promote talent across the board, we are also committed to tackling barriers which exist to talented people from under-represented groups progressing.
Case study: the Fast Stream summer diversity internship programme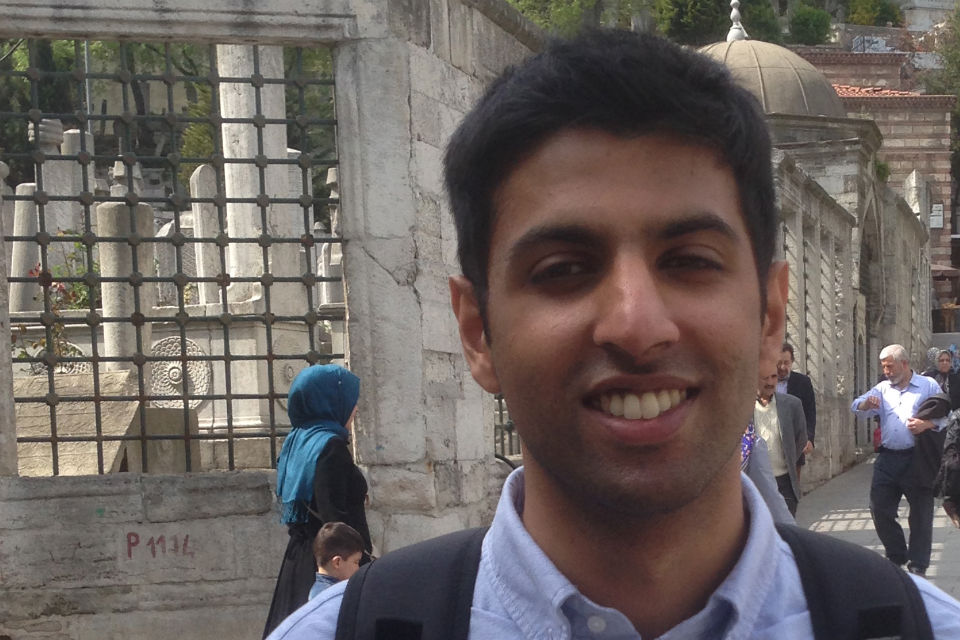 Danyal Suleman
After graduating in 2012, I participated in the Fast Stream's Summer Diversity Internship Programme ( SDIP ), working in the Cabinet Office with the team coordinating preparation for the 2014 Scottish Referendum. I was delighted to be working on such a high-profile policy, and to be encouraged to take an active role within the team, leading on communications and areas of research – experience which would prove valuable later.
When comparing my internship with those of university acquaintances within the private sector, it was clear that the SDIP was unique in providing me with tangible early responsibility – not only was I being given a firm foundation for the working world, the public sector and the Civil Service; my skills were being supported and developed. I had the opportunity to meet with interns and Fast Streamers from other departments and from different schemes. All this confirmed my desire for a career in the public sector and I applied for the Fast Stream. Fortunately, during the SDIP I had been selected for intensive coaching designed to train interns for the Fast Stream selection process. My application was successful and I joined the Fast Stream in 2013 as part of the new Corporate Fast Stream.
Case study: the Rural Payments Agency ( RPA ) talent management scheme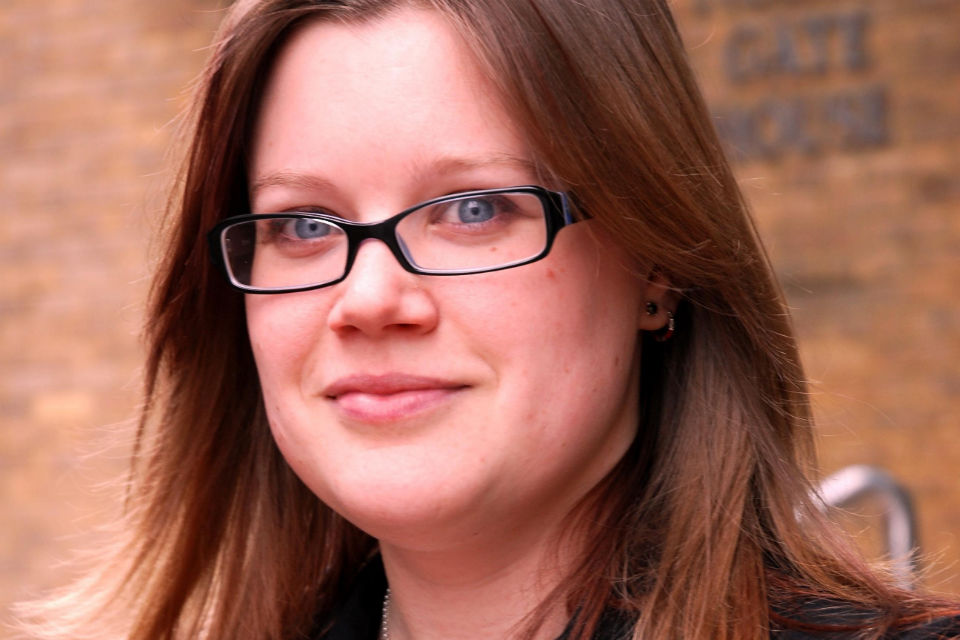 Victoria Hutchings
Victoria Hutchings has recently secured a promotion to EO in the Design Directorate of the Rural Payments Agency ( RPA ). Victoria planned her '5 a year' using the competency framework self-assessment tool, which helped her to focus on how she could improve her own performance.
As a result she's attended locally run events on the work of the RPA and sat in on an Executive Team meeting – giving her a flavour of what life is like for RPA Directors. Attending the Civil Service Live road show in Bristol helped her identify the challenges facing the wider Civil Service.
Talent Management
Victoria's potential has been widely recognised and she was selected for RPA 's Talent Management Scheme. It's helped her think big – not just how she can be better at her current job but how she wants her career to develop in the future.
Through short, monthly meetings with her mentor, she's learnt how to use the Civil Service competencies to achieve her goals. And Victoria has already secured her first substantive promotion since joining the scheme, moving up from AO to EO.
As part of the talent scheme, Victoria's devised a 5 year career plan. It'll make sure she's able to keep up the momentum for a long time to come.
While the Civil Service does well in terms of the overall diversity of its work force compared to other sectors and organisations, we know there is more to do to ensure everyone can reach their full potential, particularly at senior levels. This has been reinforced in relation to the position of senior and aspiring women by an external report from the Hay Group looking at the barriers facing talented women in the Civil Service.
We have also published a diversity strategy, Talent Action Plan: Removing Barriers to Success, which seeks to address the fundamental issues raised in that report. This plan sets out the steps we will take across 3 areas – leadership and culture; talent; and capability – with the aim of ensuring everyone is able to reach their full potential. This includes:
a commitment to introducing Shared Parental Leave at the occupational rate across the Civil Service
action to improve the experience of women on and returning from maternity leave
ensuring all-male shortlists and selection panels are exceptional by practice
a commitment to undertake more unconscious bias training
a review of our recruitment processes with a view to understanding and removing any barriers that may prevent underrepresented groups from succeeding
Alongside this we are commissioning further work to help us understand the barriers to talented people from other underrepresented groups from succeeding, particularly in the SCS . The reports, on the experiences of people with a disability, the experiences of people who declare a minority ethnic background, and the experiences of Lesbian, Gay, Bisexual and Transexual ( LGBT ) people, will help us identify further work we can do to improve the diversity of our senior leadership.
We intend to refresh the Talent Action Plan within a year, incorporating this new evidence as well as other work to examine how we can close the gender pay gap. At that stage we will publish a revised Talent Strategy.
As well as focusing targeted action to remove barriers for under-represented groups, we also want to ensure that we are bringing in talent – and potential future talent – from the broadest range of backgrounds. By April 2015, we will also increase the scale of the Fast Track Apprenticeship Scheme and expand outreach for the Fast Stream and Fast Track Apprenticeship Programme to wider student populations.
These investments in capability, recruitment and progression will ensure that the Civil Service has capable and talented people at all levels of the organisation.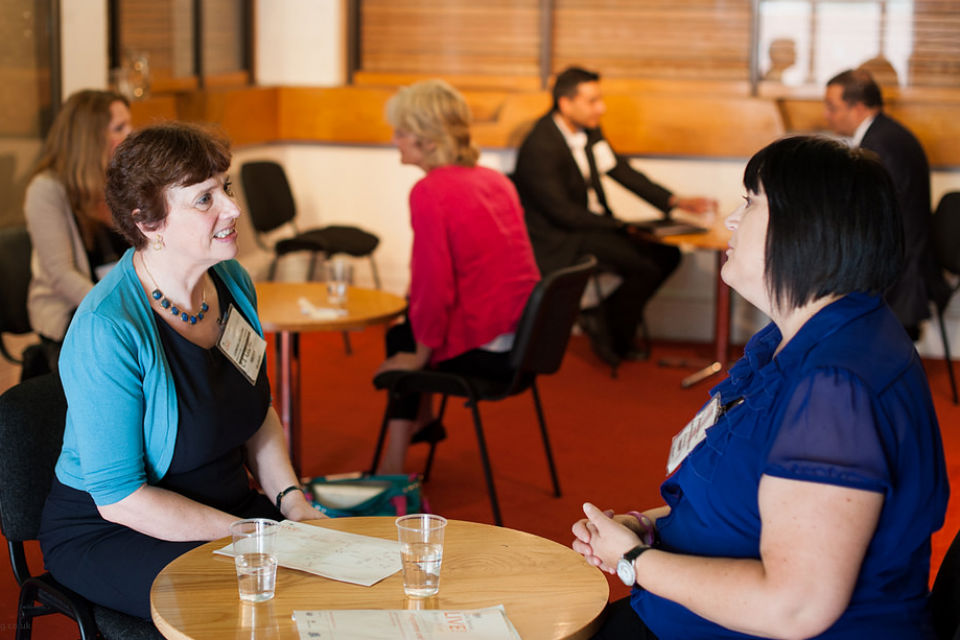 A spot mentoring session with Civil Servants
We are building on the success of GOV.UK and planning the next steps on being digital by default. In 2014/15, we will continue delivering the exemplar services but we will also focus on our future digital and technology strategy. Our plans will include further improvements to our digital service delivery to the public, setting ambitious goals for increasing the proportion of transactions with the public which are completed online, and on ensuring that our people have access to technology which is fit for a modern workplace. We want to move much faster to a position where all major public facing services are being designed to be digital by default, with digital take-up increasing and transaction costs falling as a result.
Last year, GOV.UK showed how government information can be more accessible. This year, there has been enormous progress in changing our biggest transactional services. But there is much more in our future and technology strategy to be delivered before we can say that government services are digital by default and we have delivered on our commitment of ensuring that everyone who can use digital services prefers to do so.
There are big savings in doing this. Not only is it easier for people to get the information and access the services they need, it is cheaper and faster. That is better for the taxpayer and because we have measured the impact of the shift to online we are clear about the savings. We have already:
reduced costs per transaction by 10% in real terms
increased digital take up by 9%
the scale of take up means that even small cost reductions per transaction results in large savings for the taxpayer
In the last financial year (2013 to 2014) we made £210m savings in total.
The shift to digital makes it easier for people to interact with government, getting the information they need when they need it. People are accessing government services in a way that is convenient for them – our performance platform data shows what devices are being used as well as peaks in the time that people are using services.
Six of the digital exemplars are now live:
student finance
individual electoral registration
lasting power of attorney
patent renewals
civil claims
prison visit bookings
There are more in public beta, meaning people can already use them ( waste carriers registration , view driving record , claim carer's allowance , your tax account , digital self assessment , visas , and prison visit bookings ). From registering to vote, to managing tax affairs, to checking your driving record, online means this will be faster and simpler to do. In making this transformation, we have made it simpler to use transactional services. We know we are succeeding through both user uptake and feedback. Already, for example, the new digital service for claiming Carers' Allowance delivers slightly more than half of all new claims.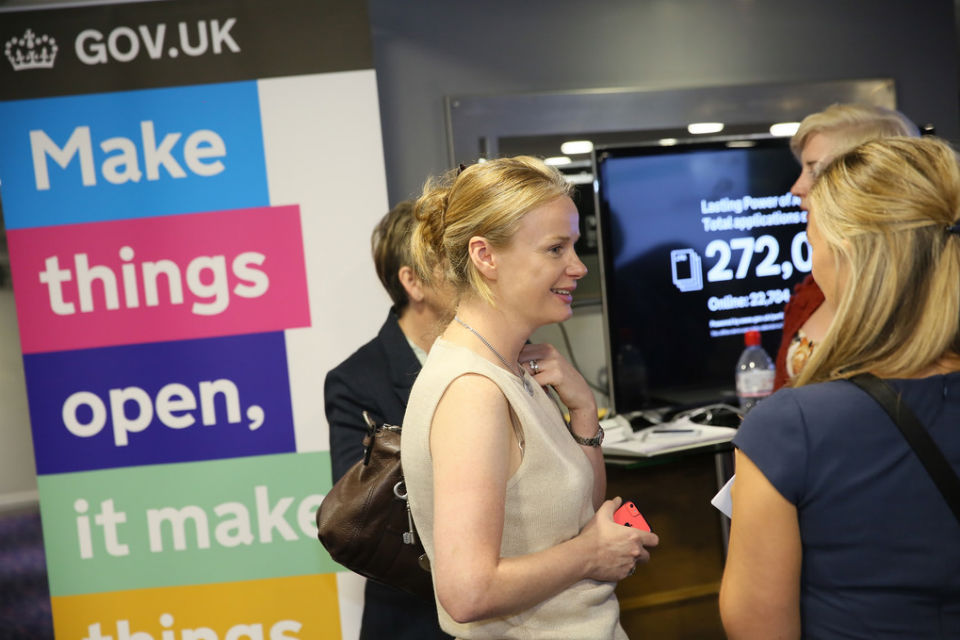 Civil Servants finding out more about the Government Digital Service
Case study: Electoral registration
Since June 2014, people in England and Wales have been able to register online for voting.
over 78% of electors are being automatically transferred to the new register
£4.2 million to support local authorities maximise registration
Our ambition is to improve the electoral registration process by introducing Individual Electoral Registration ( IER ). Instead of 1 person in a household supplying the details of all people living at the same address (which can result in fraud and errors), IER will require people to register individually.
This new digital service includes identity confirmation. IER is intended to increase trust and modernise our electoral system. It's simpler, faster and takes less than five minutes to complete. You can see how it works here:
Electoral registration
Digital by default means building digital services that are so good people choose to use them, without excluding people who lack digital skills. All new or redesigned digital services will have high-quality, cost-effective support for people who need it. But we also need to ensure that everyone who can be digitally capable has the opportunity to become so. Our Digital Inclusion Strategy sets out 10 actions which we will deliver with partners from public, private and voluntary sectors. We want to make this happen by 2020.
As well as transforming access to information and services for the public, we are changing how government goes about its everyday business. Better use of digital tools and technology will support more joined up government and better policy making. In this spirit, we will also review the impact digital by default can have on our record-keeping.
Case study: Transforming the Criminal Justice System ( CJS )
The Ministry of Justice ( MoJ ) and partners are driving improved technology into courts and ensuring the Criminal Justice System ( CJS ) can work digitally, exploiting the opportunities technology brings. A  website  explains how the CJS in England and Wales will work when the digital reforms come together. The public can use this website to see how things will change at every stage – from police collecting evidence through to the day at court and beyond. We've already seen significant improvements, with many parts of the system starting to work digitally. All magistrates' courts can receive digital files from the Crown Prosecution Service ( CPS ), and police forces now transfer over 90% of all case files to the CPS electronically. This is a change from the days when going to court meant acres of paper work.
Using modern technology, we're changing the CJS , providing an efficient customer experience that meets the standards the public expects.
Case study: Foreign & Commonwealth Office's ( FCO ) Digital Transformation Unit
People's Choice Award: #EndSVCHack
There's no doubt the digital age is impacting on foreign policy – just think of the worldwide impact of #bringbackourgirls or the role of social media in the Arab spring.
Our digital strategy, published in late 2012, was about responding to this changed world. One key action was to increase our digital capability, forming a Digital Transformation Unit drawing on internal and external expertise. Its role: to make sure we take full advantage of social media and digital technology to improve our policy work, our communications and our services (the unit sits formally in our Communications Directorate).
The unit is now in place and making a difference:
we have delivered a better – and cheaper – scholarship applications system and started work on more reliable appointment booking as part of a prioritised plan for providing more services online
we've been running a number of pilots with policy teams, for example on election monitoring and public policy consultations while our transparency team hosted a hackathon on FCO data
we've continued to deliver high impact digital communications, while training up others – e.g. Press Officers – on how to use digital in their roles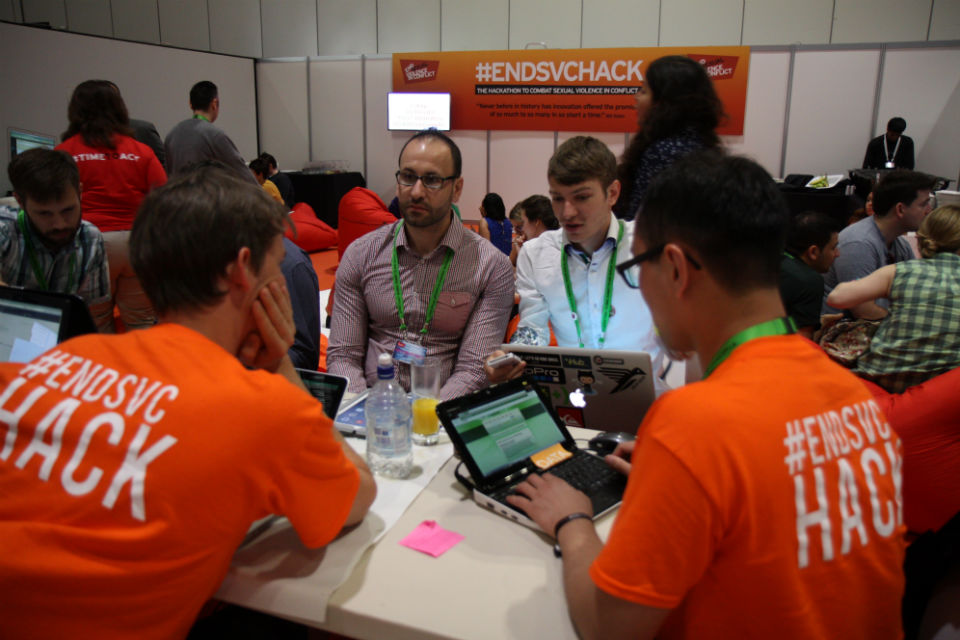 Common to all of this has been giving staff the support they need. We now have a core digital course for policy officers and have been improving training and guidance across the board. We've also set up a digital champions' network to share best practice. Two recent highlights stand out: our recent leadership conference where we talked with Ambassadors – over 100 now on twitter – about what a "digital Embassy" might look like. And the recent Ending Sexual Violence in Conflict Summit where we delivered a digital campaign reaching millions and co-hosted a hackathon on potential technology solutions to this important problem.
There's a lot more to do and our team is only a small one. But we have high ambitions – to make the Foreign Office the world's leading foreign ministry in using digital tools and technology.
The performance platform dashboards show how government services are performing, including take up of services online compared to paper based applications and user satisfaction. They are a toolkit for service managers who need to take data-driven decisions based on digital and non-digital sources to understand and/or improve service delivery.
The shift to digital will not stop with the 25 exemplar services. If we are really to change how people use government services, where possible all government transactional services should be available online and easy to use. Not only will more of the exemplar services go online this year but more and more government transactional services will follow this route. To support this, we need to ensure that the staff managing these services have the right skills; as section 3 highlights, digital is one of the priority capability areas. The DVLA has already started transforming other services such as car tax renewal and Statutory Off Road Notifications .
As part of our shift to digital by default, legacy systems will be closed down. We are setting up a Crown Hosting Service to manage legacy hosting arrangements to phase them out as departments adopt cloud hosting. We expect Crown Hosting to be operational early in 2015.
We are confident that we will deliver the exemplars and thus fundamentally change how the public interact with government services, making it easier and simpler to do so, but there remains much more to do if we are to become digital by default. We will therefore also focus on our future digital and technology strategy – our plans will include further improvements to our digital service delivery to the public, setting ambitious goals for increasing the proportion of transactions with the public which are completed online, and on ensuring that our people have access to technology which is fit for a modern workplace. This will be a key priority for the new Chief Executive.
Major Projects
We continue to put people through our award-winning Major Project Leadership Academy (340 by the end of 2014). To really narrow the skills gap we will remain focused on building the skills base to improve our delivery of major projects. Additionally, to further embed project delivery skills, we are now extending the availability of a high-quality development programme to the next generation of project and programme specialists.
At One Year On, the MPA , in collaboration with departments, had had a real, measurable impact, improving the likelihood of success for major projects from just 30% being likely to deliver to time and budget, to over 60%. There is still a long way to go to run projects effectively, but we are on the right track and major project reforms continue. The Major Projects Leadership Academy ( MPLA ) had been established, and the first cohort had enrolled. But there was more to do to further improve management and implementation of major projects, and increase capability.
Since last July, we have acted on recommendations to improve delivery of infrastructure projects through specialist delivery units – the Railway Executive is now up and running and the new company arising from the Highways Agency corporatisation will come into operation in April 2015.
The 199 major government projects now in place will cost £488bn over their lifespan. It is vital that projects are well run, with risks managed and contingencies for when issues arise. Our transparent approach recognises the importance of these major projects to the UK and we have continued to publish details of progress with the second MPA Annual report .
The MPA ensures we have a better grip on major projects, and are better placed to judge confidence in delivery. Overall, the total proportion of major projects rated as green or amber/green decreased from 42% in 2012 to 36% in 2013, while the proportion of major projects rated as red or amber/red increased from 16% to 21% over the same time period. This increase in red or amber/red projects is explained by the fact that 47 new projects entered the Government's Major Project Portfolio ( GMPP ). As these projects are at earlier planning stages, the confidence in delivery is less.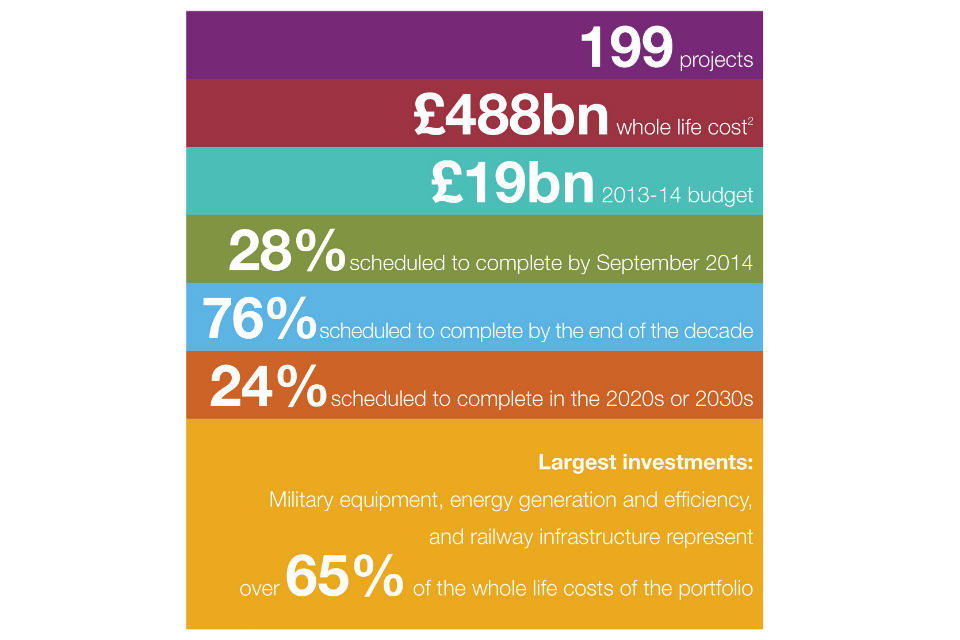 The government's major projects in numbers
We have brought in expertise to improve oversight and management of the GMPP , including the new CEO of the Major Projects Authority. The MPLA has also seen its impact increase:
70 participants have graduated
over 270 participants are currently going through the academy
we have started to implement an active talent management strategy for MPLA graduates to make best use of skills to be distributed across the GMPP
Case study: quotes from MPLA graduates
Over the last 6 months I have become more forensic in my approach to planning projects and have challenged others more on the quality of information they give me. This has already yielded significant financial savings on my project.
Michael Hurn Director, Project Sponsorship – Technical & Commercial, HS2 Group, Department for Transport
What I have learnt is being felt every day in how I lead my team and drive the performance of my part of the organisation. I am more skilled in managing the working environment and challenging the internal norm.
Dorothy Brown Director Workforce Management/ HR Director Enforcement & Compliance, HMRC
The MPLA brings a whole new dimension to leadership training – the first programme to address the unique issues around delivering major projects and an essential qualification for Senior Responsible Owners ( SROs ) and directors of the government's mega-projects.
Ray Long Director, Corporate Services Change, HMRC
The MPLA has undoubtedly taught me some new and relevant concepts and given me new enthusiasm about the power of academic rigour. If the MPLA makes only a small difference to the outcome of this £15bn+ acquisition programme, given that the impacts and costs reach 50 years into the future, then the leverage is huge.
Rear Admiral Henry Parker Director, Carrier Strike, Ministry of Defence (MOD)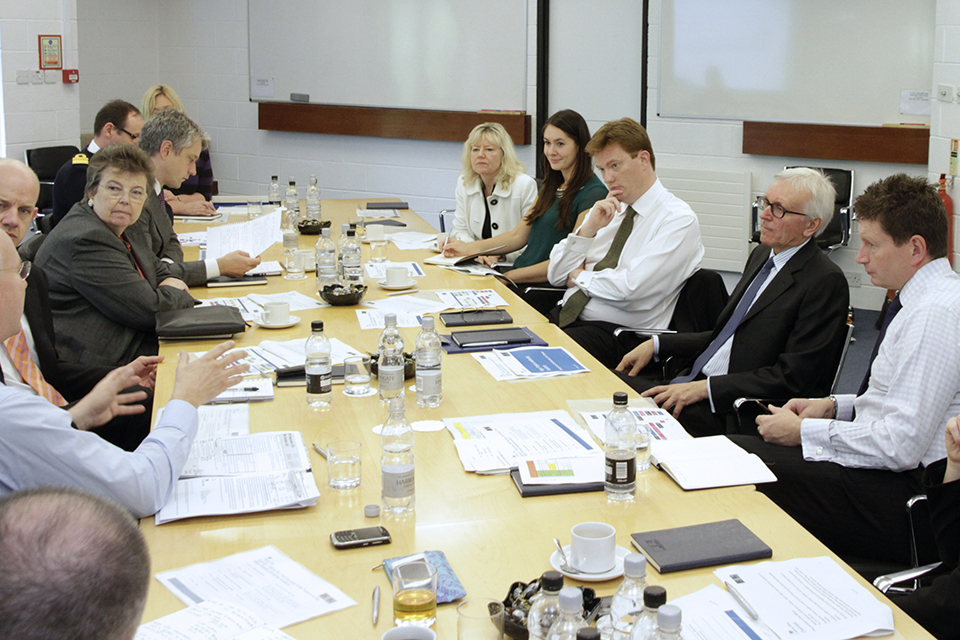 Rt. Hon. Danny Alexander MP, Chief Secretary to the Treasury, discusses the MPLA programme with participants
The improvements made to capabilities and management are now integral to how government manages and implements major projects. That does not mean that there will not be failures but it does mean that we are better equipped and able to put meaningful mitigation actions in place and to address failures when they do happen. We continue to build on this success and strengthen our management and implementation of major projects.
we are developing a Project Leadership Programme for SROs and Programme Directors in significant government projects just below the Major Projects level, and for those in second tier roles in Major Projects. This will be piloted in autumn 2014 and will be fully launched by April 2015
by September 2014 we will implement a package for project SROs which clarifies roles, responsibilities and accountabilities, and sets out arrangements for appointment and retention including incentives for people to remain in post. This will mean that all SROs of major projects will receive a formal letter of appointment outlining the above
we will ensure all projects entering the GMPP are put through a Project Validation Review
we will define the structure of the profession, a competency framework and a management strategy for emerging talent by May 2015
we are supporting departments to keep and recruit project leadership talent by putting in place recruitment support by October 2014 and working with departments to better use the Pivotal Role Allowance
by the end of 2014 we expect to have over 300 MPLA graduates, we will use the graduates as a cross-government resource facilitating and brokering moves to ensure we have the best people where they are needed most
by adopting a proactive approach to managing the talent and resource pipeline, we will continue to develop the project leader profession throughout government to ensure we have the capacity and capability to successfully deliver government projects. A strategy will be in place by May 2015
the MPA will be discussing with departments how to ensure the identity of SROs of major projects is made available on departmental websites along with dates of appointment
Case studies: key programmes being delivered with MPA support
This is just a small selection of projects in the government's Major Projects Portfolio currently delivering significant changes to public services or infrastructure.
Schools fit for the next generation
The Department for Education ( DfE ) set up the Priority School Building Programme in 2011 to rebuild or repair over 250 of the country's most run-down schools. To ensure value for money, the schools were grouped to make the projects more commercially attractive and to drive stronger competition from bidders for the contracts. All schools within the programme will have been refurbished by the end of 2017.
Tackling the threat from serious and organised crime
The establishment of the National Crime Agency ( NCA ) will enable the UK to tackle more effectively serious and organised crime such as money laundering, cyber-crime or human trafficking. This project has required a major transformation, bringing together staff from a variety of bodies, including the National Policing Improvement Agency, the National Fraud Authority, the Metropolitan Police Service and the UK Border Agency.
Protecting Britain's interests abroad in the 21st century
Type 45 destroyers will provide the backbone of the UK's naval air defences for the next 30 years and beyond, as well as carrying out a wide range of operations, including anti-piracy and anti-smuggling activities, disaster relief work and surveillance operations. The first Type 45, HMS Daring, arrived in Portsmouth in January 2009. HMS Duncan, the final of the 6 Type 45s, entered service in January 2014.
Open Policy-Making
In the last year, there has been greater use of digital methods and collaborative working as part of the drive to open up our policy-making processes. Now we need to continue that drive to make open policy-making the default, by building on the foundations of our What Works Centres to embed the necessary culture shift in our policy teams, delivering a new toolkit to support policy-makers, making contestability the standard practice, agreeing a common framework for policy audits and beginning the next steps to professionalise our policy-making with a qualifications framework.
Open policy-making is about changing the way we work and improving the quality of policy advice provided to ministers through greater collaboration with experts outside of Whitehall, better use of evidence and grasping cutting edge techniques as well as greater emphasis on experimentation. It is all about ensuring that we are open, professional and consistent in how policy is designed and developed. Open policy-making has a number of critical strands which focus on ensuring that:
how we listen to the views of the public and outside experts becomes more effective, through digital crowdsourcing techniques
there is much more focus on evidence of what works – our What Works Centres and use of randomised control trials
front-line implementation issues are considered as policy is developed and designed
best practice is spread across the whole policy profession
The past year has seen digital methods and collaborative working established as credible approaches to open policy-making, but there is more to do across all departments before we can say open policy-making is the default. While there is no one size that fits all, there is a clear definition of open policy-making as well as a spectrum of openness that demonstrate what different approaches and methods can be used in different policy scenarios. These can be found on the Open Policy-Making blog .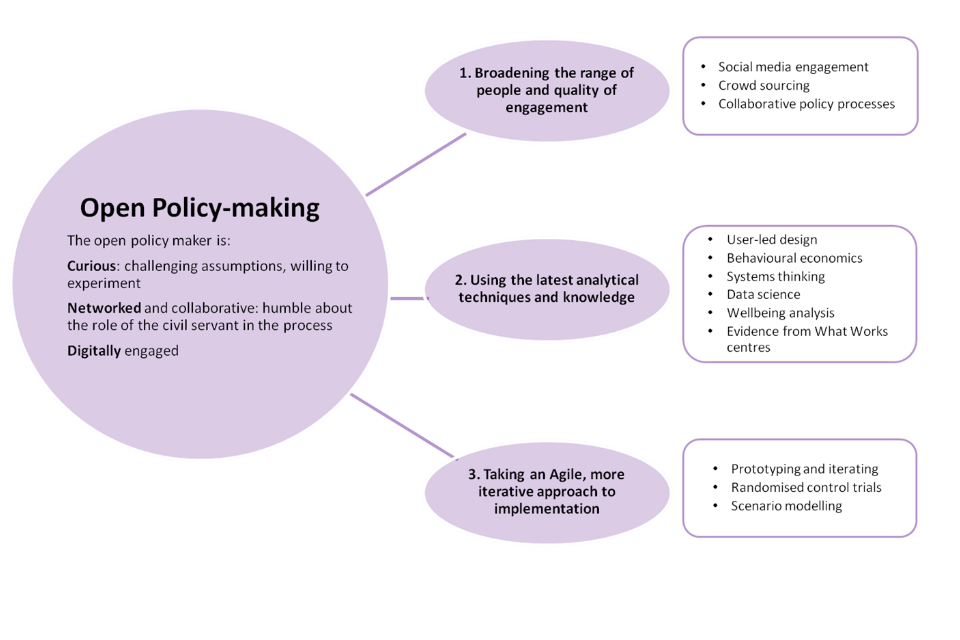 Open Policy Making: Listening to the public and outside experts
Listening to the public and outside experts
The British Civil Service has long been at the fore-front of policy development: it is an area where we are genuinely world-class. But to maintain this edge, we need to collaborate more, learn from outside more, listen more. To this end, Civil Service Quarterly was launched in July 2013 to open up the Civil Service to greater collaboration and challenge. It has also allowed us to show how we are responding to new challenges with innovation and boldness and to spread that approach across the organisation. In just a few editions Civil Service Quarterly is already establishing itself as a distinctive voice celebrating policy successes and urging ever-greater efforts. In the first year, 5 editions saw more than 60,000 unique visits to the Civil Service Quarterly blog .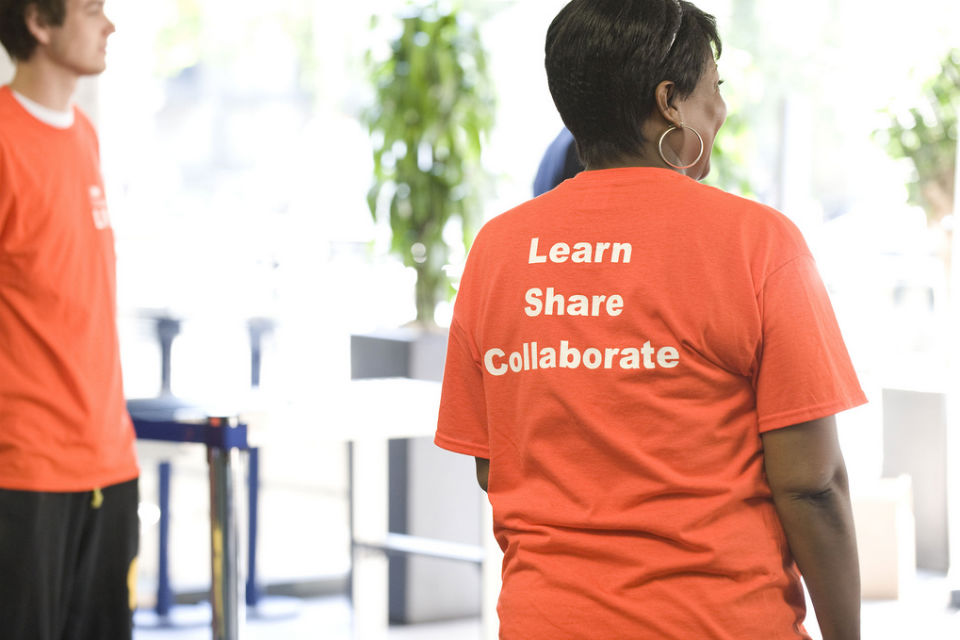 Volunteers at Civil Service Live
Embedding open policy-making across the Civil Service requires collaborative working with departments, to champion open approaches and give officials confidence in and licence to try out new tools and techniques. Therefore, we have been working closely with 7 exemplar departments ( BIS , Department for Communities and Local Government ( DCLG ), Department for Transport ( DfT ), DH , HMRC , FCO and MoJ ), as part of our work to make open policy-making the default. Two successful open policy events were held where policy-makers and digital leaders came together to learn about different tools and techniques and share learning. We published a full account of these events on Storify .
Case study: Red Tape Challenge
Good regulation protects consumers, employees and the environment; it helps build a more fair society and can even save lives. It needs to be sensible and proportionate if it is to effectively to protect the interests of consumers and the safety of the public.
The Red Tape Challenge was introduced to give business and the general public the opportunity to challenge the government to get rid of burdensome regulations, to boost business and economic growth and to save taxpayers money.
The programme sought to engage businesses beyond talking to the usual suspects and in an innovative way. Over 30,000 comments were crowdsourced online from individuals and businesses via the Red Tape Challenge website, harnessing the knowledge of those people faced with understanding and complying with these regulations.
Unlike previous efforts to de-regulate, we have reversed the default setting; the starting point has been that regulation should go, or be delivered in a non-regulatory way, unless there is good justification for the government being involved.
Around 5,600 substantive regulations were examined. In January 2014 the Prime Minister announced that 3,100 regulations had been identified for scrapping or improving, resulting in an annual saving to business of £850 million.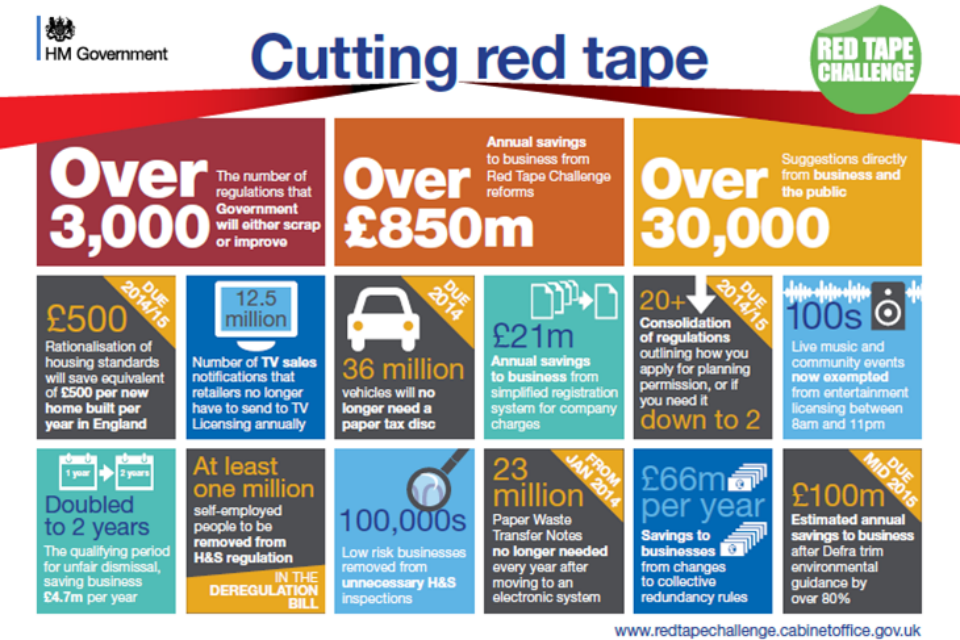 The Red Tape challenge
The last year has also seen an increase in debate and discussion on digital platforms such as OPM Twitter, OPM Linked In and most recently the open policy blog on GOV.UK.
there are over 2,960 followers for the OPM Twitter handle @OpenPolicyUK
more than 800 members have signed up to the OPM Linked In discussion group
several departments have held digital fortnights and OPM events to enhance digital and policy capability and also encourage better use of social media.
Strengthening policy advice and support to ministers
The Contestable Policy Fund was launched to give ministers access to advice from outside Whitehall and is an important aspect of open policy-making, allowing us to draw on external evidence and expertise to ensure that policy advice is well informed. The second year saw 8 further projects funded (in addition to the 10 projects funded in year 1), including a report on gender diversity in the Civil Service . Other examples include:
advice commissioned by the Minister for Local Government ( DCLG ) on ways to achieve savings in public sector pensions by reforming their administration and management and which is currently the subject of a consultation
advice jointly commissioned by the Ministers for Welfare Reform ( DWP ) and the Minister for Care and Support ( DH ) on options for improving services designed to help people with common mental health issues get and maintain jobs – the 2 departments are considering the proposals for improving support
The Fund has been a success, and will continue. However, all departments should now have in place arrangements through which ministers can directly commission external advice, separate and in addition to the Contestable Policy Fund.
One Year On outlined our intention to increase the direct support available to Ministers in their private offices. This followed a government-commissioned report by the IPPR which argued that ministers needed more dedicated and specialist support to help them deliver their policy priorities. The IPPR highlighted that UK ministers had far less direct support than their colleagues in other countries with Westminster-based political systems. The Institute for Government also called for stronger ministerial offices. The government therefore committed to strengthening ministerial offices by removing unnecessary and often artificial barriers which prevented civil servants – whether Special Advisers or not – from working together. Alongside this, CO issued new guidance to departments enabling ministers to form Extended Ministerial Offices ( EMOs ), characterised by a high degree of integration and co-working of officials and Special Advisers, but working closely with the Permanent Secretary and the rest of the department.
Departments have responded in various ways to the proposals and principles set out in One Year On by strengthening the support for ministers in delivering their policy priorities. Some departments have combined a strong delivery function with the traditional Private Office to provide in-depth assurance on ministerial priorities. Others have merged a strategy function directly into ministerial offices. Elsewhere, greater policy expertise has been prioritised, with small policy units embedded into the Private Office. In CO a new Ministerial Policy Unit is providing fresh insight and advice, while also reviewing strategically important projects. Officials and special advisers now sit together in an integrated office space. So the ability to create EMOs is already transforming how ministers structure their offices, even if they have not established formal EMOs at this stage in the Parliament.
With strong cross-party consensus on EMOs , and the support of the Civil Service itself, they are likely to be a significant feature of future governments. The Civil Service Commission has created a new exception to their recruitment principles, allowing individuals from outside the Civil Service to be appointed to EMOs on fixed, non-renewable term appointments. The CO will continue to work with the commission on this important area, and to ensure relevant guidance is proportionate and appropriate.
Greater focus on what works
Six independent What Works Centres have now been established. They will aim to produce and publish systematic reviews of evidence on what works. For example the What Works Centre for Local Economic Growth recently published a review on the impact of business advice. The What Works team will work in collaboration with the Policy Profession so that the new assessment standard, curriculum and qualification for the policy professions will include training in analysis and use of evidence. The What Works team have also undertaken 2 reviews of how well departments are generating, using and sharing evidence and further reviews are planned, with support from the CO 's Implementation Unit and HM Treasury ( HMT ).
Though the What Works centres are starting to improve the quality of evidence flowing to local commissioners and professionals, we have made less progress in publishing the evidence base that supports policy-making within Whitehall. The Civil Service has shown that it is capable of producing and publishing the analytical work that lies behind policy positions, such as the analysis published on the implications of Scottish independence, but this remains the exception rather than the rule. Last year, in One Year On, we committed specifically to developing a model for conducting policy audits. These are audits that revisit policy advice in light of implementation to assess its quality, review whether the risks materialised, and learn the lessons from implementation more effectively. This was a core commitment from One Year On and some progress has been made. But no policy audits have yet taken place.
To accelerate progress the CO What Works team will work with HMT , Heads of Analysis, the impact assessment team and with the Head of the Policy Profession to ensure that a rigorous policy audit framework is agreed and a number of policy audits are actually completed by Christmas.
Case study: The Education Endowment Foundation
The Education Endowment Foundation ( EEF ) was created in 2011 with a founding grant of £125 million from the DfE . It was set up by the Sutton Trust, as lead charity in partnership with Impetus, with the mission of breaking the link between family income and educational achievement in English primary and secondary schools.
The EEF aims to achieve its goal by promoting the better use of evidence in schools. It does this by making the existing evidence base accessible to schools and seeking to extend this evidence base by funding and rigorously testing new ways to increase the attainment of disadvantaged pupils.
Since its launch the EEF has awarded 72 grants at a total cost of £37.4 million. The projects will work with over 2,300 schools and reach over 500,000 children. All EEF projects are independently evaluated and to date over 50 evaluations have been set up as randomised controlled trials.
An example of the innovative approaches funded by the EEF is a project which seeks to improve parental engagement being run by Harvard and Bristol universities. In the project, parents will receive text messages which prompt conversations with their children based on learning in school.
The 12 Actions to Professionalise Policy-Making set out the Head of Profession's expectations for the profession across government. Its actions include enhanced central support, improving knowledge sharing; setting departmental policy standards; improving professional development and assessment, visible leadership and peer reviews and developing impact indicators.
Case study: Cabinet Office Data Science Programme
During our Open Policy Making Sprint event in May 2014 , we presented some early work on exploring and trialling new techniques and technologies for working with data – in a very practical way – to enhance and improve the way we deliver policy and services. This can range from how predictive modelling can help fire services with their resource and prevention planning, to developing tools and visualisations for areas at risk of flooding.
Significant advances in the capability and cost of technology have opened up new opportunities in data analytics, allowing us to think in new ways to improve the efficiency and effectiveness of our public services.
Our programme currently includes:
trialling projects and sharing lessons from existing work across government
building capability – getting in the right skills through hiring external talent, while working to build civil servants' experience and abilities for the long term
unlocking practical barriers
work in a transparent way – exploring the potential with innovators in and outside government and developing an ethical code.
Making sure implementation issues are built in
The Implementation Unit in CO is leading the way in helping policy-makers understand how they can improve implementation, which includes:
ensuring that implementation is considered at the ideas stage and that a clear implementation plan is in place before moving on from the policy development phase. This also means not being afraid to go back and change the policy on the basis of evidence and data on what's happening on the ground
recognising that good data and management information is critical to good implementation. By identifying and monitoring the right measures, policy-makers are able to see what impact they're having and take action as a result
maintaining a relentless focus on the needs of the customer. Policy-makers are encouraged to get out to the front line more often, and to bring the insights back to decision makers
encouraging policy-makers to communicate what we they are doing and why – making sure the aims and intentions of policy are well-known, jargon-free and not lost in translation
The Implementation Unit continues to build implementation capability in departments, by working alongside Whitehall colleagues and delivery partners to support implementation efforts.
Case study: Department for International Development ( DfID ) - Amplify
DfID 's Innovation Hub team were faced with a challenge. They wanted to get ideas on poverty-related challenges from a broader range of people and to understand those challenges from the perspective of the very people who were most affected by them. They wanted to work with communities around the world to get fresh, new ideas and solutions, which they could then test and prototype with user communities. And they wanted to have a conversation with people they could not normally reach.
DFID were approached by IDEO.org , which has a great reputation for designing products and services in collaboration with the end user. DFID knew that there was already a very strong online community, in IDEO.org's sister organisation, openIDEO.com . Rather than set up something else, they took the opportunity to see how DFID could benefit from human-centred design and collaborative approaches. Together, DFID and IDEO.org developed the Amplify project.
Amplify will run for 5 years and will run 10 challenges around poverty. The first is 'how to make low-income urban areas safer and more empowering for women and girls'. The team work through a 4-stage design process . The ultimate vision for Amplify is a collaborative design process that will be a conversation between a global community of problem-solvers, which is at every stage informed, shaped and challenged by users who can test and prototype the strongest emerging ideas.
In the final stage of the process, DfID award the best ideas with funding and 14 weeks of design support from IDEO.org. This will be particularly important for smaller or less experienced organisations to take their ideas forward.
Spreading best practice across the whole policy profession
In the last year, significant steps have been taken towards the ambition of making open policy the default in Whitehall. However, there is some way to go before open policy-making – being open, professional and consistent – is the norm. We are addressing the challenge of tailoring open policy-making to the range of issues and problems routinely dealt with across government.
The policy profession (based on self declared numbers registered on Civil Service Learning) is c.17,000 in size, including c.4,500 at Grade 6/7 and c.1,300 at SCS level. These last 2 groups of policy professionals (c.5,800) are the civil servants we focus more closely on developing in 12 Actions to Professionalise Policy-Making.
The policy profession has undertaken research on the capability needs of the policy profession to challenge and stretch policy professionals as well as create greater confidence in the consistency of their capability. We are exploring the feasibility of 3 key tools:
a commonly available assessment standard applicable across the policy community (focused at Grade 6/7)
an enhanced policy curriculum to support the requirements of such a standard
a postgraduate qualification (likely focused on high potential individuals)
For all of these to work we believe they need to be bespoke and co-delivered between practitioners and academic/accreditation partners.
Much remains to be done before open policy-making becomes the default across government. We will continue to drive progress and the next year will see further work in the areas set out below:
providing new tools for policy-makers –we are developing a toolkit (with online and offline tools) for policy-makers which should be available in early 2015
publishing our analysis of the evidence base that is used to support policy decisions
broadening out the open policy network – by coordinating and managing stimulating debate on GOV.UK and hosting inspiring sessions and workshops with external experts we will continue to help policy makers connect and network
Functional Leadership
We now have clear operating models for all 8 of our named cross-government professional services which are being developed under our Functional Leadership programme (Legal, Communications, IT, Commercial, Finance, Internal Audit, Human Resources (HR) and Property). These models are delivering efficiency savings through centralised service delivery and improving professional capability with the Heads of Function taking a leadership role in relation to the whole of the professional community across the Civil Service. The new Chief Executive will have a key role in driving further work in this area, line managing most functional leaders to realise the full extent of the savings to be gained and raise professional standards.
At a time when departments are getting smaller and specialist expertise is at a premium, it is vital in each functional area that the expertise we do have is managed and coordinated effectively by strong functional leaders who have the status to effect change. Last year we agreed to make a step change to our provision of expert and corporate services through stronger functional leadership. Greater integration of specialist functions across departments, with stronger professional leadership of those specialist functions, would make the Civil Service more resilient and the business of government more efficient. We said that we would target £1bn savings by 2015/16 through this work. The new Chief Executive will have executive control of most of these 8 functions, acting as their Accounting Officer and line manager.
In September 2013, a major programme, led by CO and HMT , started to build a more unified corporate centre. The programme is focusing on 8 functions: HR , legal services, communications, IT, commercial services, property, finance and internal audit.
By December, the operating models for the first 6 of these had been approved, and more detailed operating models were in place by June this year. The models for finance and internal audit were developed and agreed within the Review of Financial Management in Government (December 2013) , by Richard Douglas and Sharon White, with Lord Sainsbury acting as external adviser.
One of the biggest barriers to progress on the functional leadership agenda was the charging of VAT on services shared between departments which acted as a disincentive to greater integration. We have worked to remove that barrier. From April 2014 the central government VAT scheme has been extended to cover 'non-criminal legal services'. HMT will consider whether further extensions of the scheme are necessary as shared services come on stream in other functions.
Significant progress is being made on all 8 functions, transforming the corporate centre of government.
Civil Service HR provides a professional HR service across the Civil Service. It sets common standards and approaches, and provides expert HR functions and advice to departments (for example on learning and development, and resourcing). It is now operating on an industry standard ratio of 1:100 staff
The Treasury Solicitor's Department is a single, non-ministerial department, which has extended its reach over this Parliament so that it has now brought together into 1 place the legal units of the majority of government departments. It has cut hourly litigation costs by 12%. In 2014/15 it will complete its amalgamation of legal units and re-launch as a single legal service for government
Government Communication Service , overseen by a ministerial board, produces a strategic annual plan, leads professional development and has reduced costs by 12% through financial controls
government IT is now led by a single cross-departmental Technology Leaders Network, which is setting common standards for architecture, security and software. The Office of the Chief Technology Officer ( OCTO ) is working to help departments exit their legacy IT contracts and design better technology programmes. OCTO is also building superior common technology services and platforms which all departments can use
the Crown Commercial Service, established in April 2014, brings our commercial capacity into 1 organisation, led and driven by the Chief Commercial Officer. £5.4bn commercial savings have been achieved in 2013/14, against a 2009/10 baseline
the Government Property Unit is working with departments to form clusters for the sharing of property services, with business cases to be delivered in October. More efficient organisation and stronger bargaining power are expected to enable cost savings within the Government's radical estates strategy
later this year (2014/15) XDIAS, the Cross-Departmental Internal Audit Service (which already provides services to 8 departments) will be replaced by the new Government Internal Audit Agency. It will extend its reach during 2015/16 to create a single integrated service for government
following the recommendations in the financial management review, the finance profession, is now led from HMT by the Director General for Spending and Finance. With the support of 4 committees led by Directors General Finance from major government departments, HMT is improving financial management across government to ensure HMG repairs the public finances and maximises the value from every pound spent. Finance Director positions are increasingly filled by professionally qualified accountants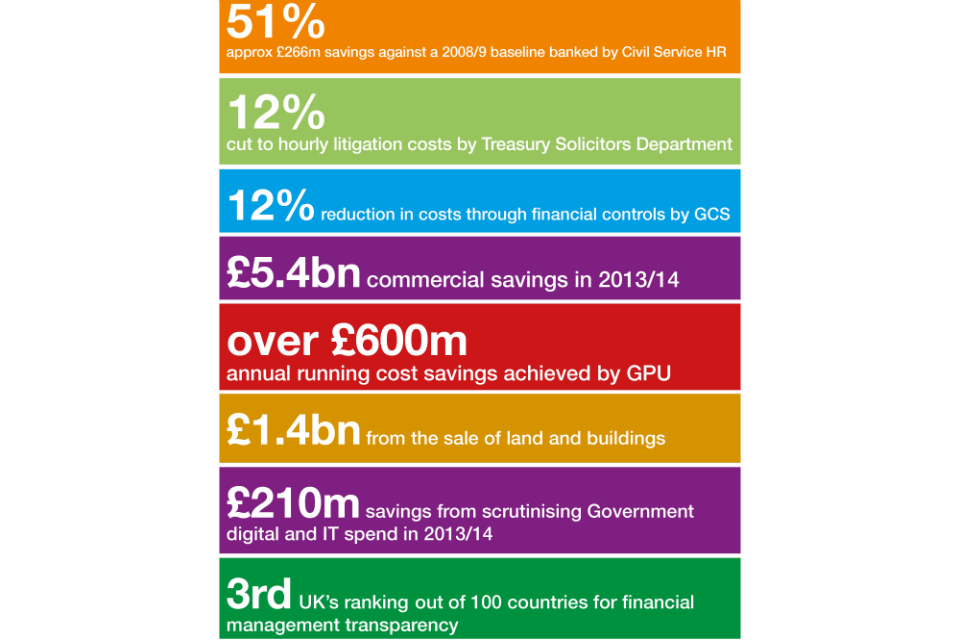 Benefits of unified corporate centres
Operating models vary across the 8 functions, but the benefits of stronger functional leadership are already evident in each.
Benefits realisation plans are being developed to monitor the outcomes delivered by Functional Leadership. These plans will build on the operating models and strategic outline business cases signed off by PEX(ER). Reporting against the plans will begin in September 2014. The slides below set out the progress of each function in integrating services and delivering benefits to date.
7.8 Charts (see Annex B) show the journey each function is on. They focus on 3 areas:
Sharing services across departments
Some functions (for example, IT and finance) will always work most effectively on the basis of teams embedded within departments, but led and co-ordinated centrally. Other functions (for example, property) work most effectively on a cluster model where services are provided in a small number of centres, each of which provides services to a group of departments. Others (for example, legal) are already nearing the completion of a journey to a central service provided by a single organisation – this is a vision shared by other functions, although the timescales will be longer
Raising professional standards and capability
For each of the 8 priority functions, their leaders also operate as Heads of Profession. Increasingly, we are moving to a position where Heads of Profession do not just set the professional standards but also play active roles in:
recruitment and retention, including overseeing specialist recruitment pipelines and/or hubs
mapping out career paths for their profession, including maintaining external networks to bring in the best talent from the private sector and alumni networks for those who have left the Civil Service
setting standards, building learning, accreditation and/or qualification frameworks, and providing specialist content for, and approving, Civil Service Learning and other learning material relevant to their profession
performance assessment and management across the senior ranks of their profession
identifying and managing talent, including advising departments and the Civil Service's Senior Leadership Committee on the deployment of talent to meet business priorities
These are not just priorities for the 8 professions which are also identified as functions under the Functional Leadership programme; these roles are also core to the development of other business-critical professions including project management, policy and operational delivery.
Realising benefits
These include efficiencies realised simply by sharing services and therefore reducing duplication (for example, 51% savings in HR ); efficiencies made easier identify by the greater levels of co-ordination and coherence delivered through shared services and closer working (for example, £5bn targeted by property professionals in the new estates strategy which is to be published this year); improvements in the capability and quality of service provided (for example, HR considers performance metrics internal and external to this function, both quantitative and qualitative in nature); and improved services directly for the public (for example, through digital services). It is already clear that the sum of these benefits will exceed the £1bn of the £20bn efficiency savings to be delivered by the Efficiency and Reform Group by 2015/16. Benefits realisation plans are now being put in place by all functional leads.
Case study: Space for Growth ( SfG )
SfG uses unoccupied or under-utilised space in government buildings for small and medium enterprises ( SMEs ), social enterprises and charities to use temporarily at very low cost. Making the most of having a single property function, the Government Property Unit worked with departments to identify suitable locations, worked with business and developed the concept of bookable desks and managed incubation spaces.
The project has been groundbreaking: departments nervous of sharing buildings with SMEs – are now doing so; a new internet portal was built quickly facilitating online registration, security clearance and booking of desks and meeting rooms by individuals; and reuse of surplus furniture has kept costs down:
SfG has helped many organisations, from Halifax to Bristol
Sue Jepson from Eat Smart Foods set up her business in manufacturing gluten/lactose-free sauces, she aims to expand and take on employees, thanks to SfG
Alkhami and Ellery Consulting , both SMEs , saved money to take on employees to grow their businesses
Fifth Province Productions used space at Wimbledon for rehearsals and said "Put simply, we couldn't have afforded to rent the suitable rehearsal space necessary to achieve that"
The Department of Health shared Skipton House with a social enterprise, The Eye of The Storm, enabling unemployed to start businesses or re-enter work
The Way We Work
We have achieved significant efficiencies in our estates – the central government estate has shrunk by over 2m square metres, yielding annual running cost savings of £625m and bringing in £1.4bn from the sales of land and buildings. For our staff this has meant big changes but we are now seeking a more fundamental transformation in our ways of working. Across the whole of the Civil Service we need to make a step change in the ways we work, fully embracing smarter working and focusing on the IT needed to support that.
Providing modern workplaces so people can work effectively was something which at One Year On had not progressed as much as we would have liked. Since then, we have reviewed this action and refined its scope so it focuses as much on the way we work as on the space we work in. This programme is called The Way We Work, or TW3 for short.
As part of that step change, we have been building a smarter working revolution to transform how and where civil servants work. Smart working is about the way people work, not just the workplaces or IT kit that are used. It is an approach in which, taking account of business need, people:
focus on outcomes not process
are empowered by technology
work flexibly and cost effectively
collaborate more effectively with other teams in their own departments and in other departments
maximise productivity and innovation while reducing environmental impact
feel trusted by managers to work effectively in any situation
Case study: Connecting to a new way of working in DCLG
DCLG 's Connect project was all about meeting people's technology needs and ensuring they had the right tools to do their job. It's roll out has created more opportunities for people to work flexibly including social media and instant messaging access, 3G mobile working, an improved wi-fi solution for staff and guests, and tablet/homeworker solutions that are among the most flexible in government. As part of its new way of working DCLG held its first instant messenger "Ask Bob" event, enabling 120 staff around the country to participate in an interactive question and answer session with the Permanent Secretary, Sir Bob Kerslake.
Connect is also helping to transform the work-style of colleagues like Christine Gough who works in the National Network Management Team, based in Manchester. Christine who travels, on average, twice a week to London and regularly across the country says:
Connect has given me much greater flexibility as to how and where I work. On the train I can work on documents and then transfer them to Connect via the wi-fi, which is helping me to become paperless and more productive. I can work while I'm on the move and at home it's much, much faster getting onto the system – that has to be good for my work/life balance!
Case study: Delivering better places to work through better use of space
Making the department a better place to work is at the heart of the MoJ 's TW3 programme. The TW3 strategy will also help the department reduce its London estate to 1 headquarters building by 2016, having already reduced from 18 buildings to 4 over the last few years, saving £30m a year in the process. This February, we launched the first of 4 TW3 pilots with a new office layout to support Smart Working. A touchdown space for laptop users, a range of desk sizes and a café-style area for informal meetings, combined with a greater commitment to work differently have all encouraged staff to transform how they work.
One of our biggest changes has been to bring working styles and patterns up to date. Some staff across the department are testing a range of mobile devices such as iPads, Windows tablets, laptops and smartphones to enable them to work from different locations. Feedback has been very positive, with people having the ability to respond to e-mails between meetings, away from their main place of work, while they are travelling, and while working at home. Mobile technology has enabled people to re-prioritise their workload whilst on the go which has saved them time, extensively reduced the need to print and reduced the need for travel. Staff are also seeing the benefit of working remotely with better work life balance being reported.
In the regions we are developing a range of options based on the learning from the 1HQ project. We have also delivered our first strategically placed 'Commuter Hubs' within the M25, increasing the choice of workspaces for staff to work from. The first hub opened in May 2014 with 3 more planned by the end of this year. It is hoped that MoJ can work with other departments to share such resources in return for space in other government hubs facilitated by the Single Government Pass.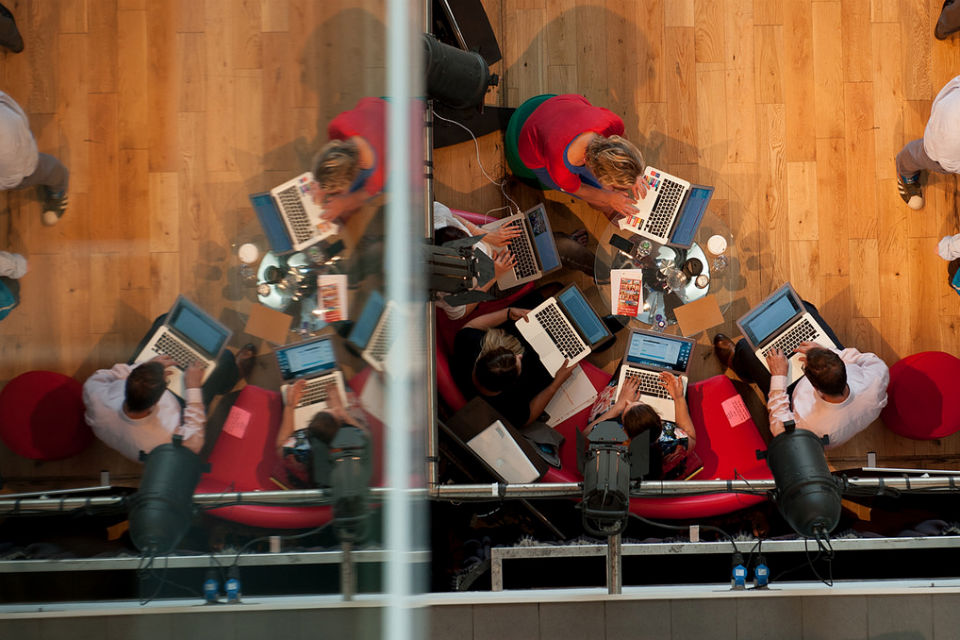 Civil Servants making the most of more flexible equipment
Smart working is a major contributor to the significant changes on the central government estate in the last year and to the large savings that have been realised since 2010.
since 2010 the central government estate has shrunk by over 2m square metres and has delivered annual running cost savings of £625m and brought in £1.4bn from the sale of land and buildings. The TW3 programme has helped departments to accommodate more or the same level of people within a reduced number of buildings
office space use has improved from 13 square metres per person in 2012 to 11.9 in 2013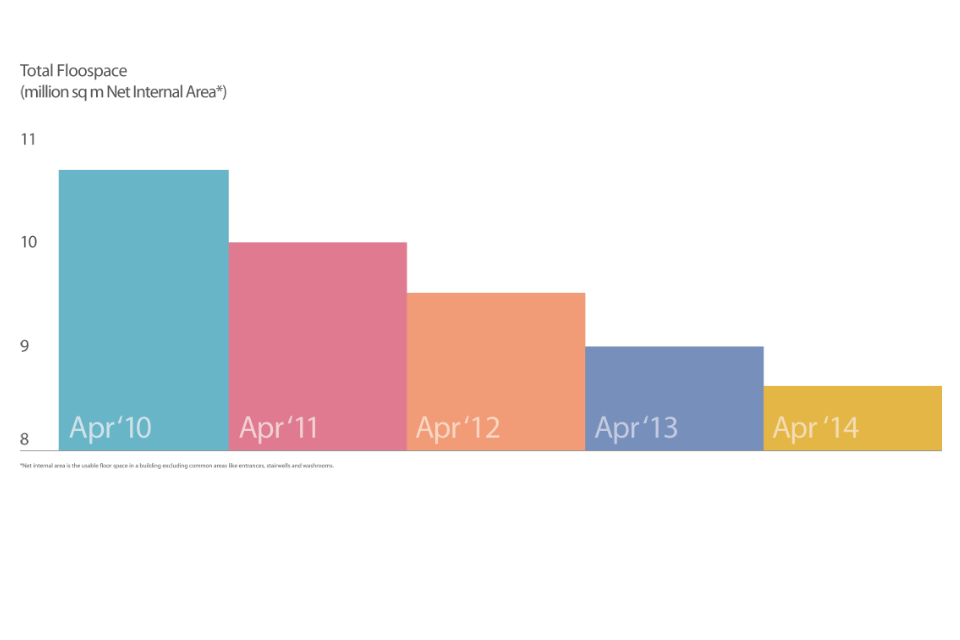 A shrinking estate: 2010 to 2014
As well as changes to the government estate, we have introduced a Common Access Pass so staff can move freely between different government offices. Starting with central offices, all departments are issuing the Common Access Pass to staff. By the end of this year (2014) the rollout to central offices will be 90% complete.
Work has also started on measuring the value and benefits of smart working, capturing the outcome of work that departments have been doing to implement this programme, including exemplar case studies. The measurement methodology will be developed by autumn 2014.
All departments are making progress on implementing Smart Working although they are at different stages. By the end of December 2015 central departments will have in place:
strong leadership that embraces the flexibility, productivity and effectiveness offered by the changes to workplaces
a positive flexible working culture and environment
well-designed workplaces that support how people work best
IT that works just as well in and away from the office
security and access arrangements in government buildings that make it easy and safe to work in a variety of settings
Improved IT is a key enabler of smart working. There is a significant IT uplift programme in progress across government and some good examples of new IT tools that facilitate smart working. Progress on replacing IT equipment is at a slower pace than we would like; the cost of exiting legacy contracts however means we have had to take hard decisions about how quickly we can deliver change.
Case study: HO mobile technology
Over the last year Home Office Technology (HOT) has been expanding its use of mobile IT.
Following an initial pilot, HOT built a Windows 8.1 Tablet solution that can provide all the services of the current Home Office network, POISE.  In addition to helping HOT develop its plans for a more flexible, modern approach to building the desktop, the tablets have been used in a number of operational scenarios, where they're helping to transform the ways we work.
Border Force used the tablets in conjunction with passport scanners to collect analysis on exit checks. Tablets have also been deployed with Immigration Compliance and Enforcement (ICE) teams, as they explored how different devices can improve productivity and help us move more to paperless ways of working.
The devices were an instant hit, helping our officers to work more effectively. Just 3 days after the tablets were delivered, an immigration compliance and enforcement team in Edinburgh reported:
We were in a house with a female who was clearly providing false details. Paperwork was located in her room that provided a different name.  Powering up the tablet, an iSearch enquiry was made which provided a match with a picture…..  A successful arrest was made and with the confirmed details she was detained for re-documentation with a good prospect for removal.
That is not to say no progress has been made. We are leading programmes to replace the technology in CO , the Department of Culture, Media and Sport ( DCMS ) and UK Financial Investments, so that civil servants have the technology they need to do their jobs effectively and efficiently. An ongoing trial of technology in CO ahead of its contract expiring will support informed decisions on future IT equipment needs.
Two thirds of departments have comprehensive wi-fi coverage already in place or planned in the next 6 months. At the time this report was compiled in summer 2014, an estimated 50,000 civil servants were operating on a daily basis with a laptop. However, this is still only 25% of all office-based staff, so further progress is needed.
In line with what many private sector organisations have achieved, we expect the radical shift to smarter working to increase productivity, reduce costs, improve wellbeing, and contribute to wider objectives such as localism, sustainability, and to reducing pressure on the transport system.
In order to maintain the momentum on implementing smart working, work has started on developing a cross industry Smart Working Charter that will achieve an agreed definition of excellence in smart working towards a new national standard as well as a basis for benchmarking performance between the public and private sectors. The high-level design of the charter will have been completed and piloting underway in a number of organisations by February 2015.
In addition, the Agile Future Forum , a consortium of leading private sector companies led by Lloyds Bank, has been piloting a methodology in MoJ and HMRC to quantify the economic benefit that workforce agility can bring to organisations, as well as to employees. These pilots are now complete and will report shortly; subject to the outcomes, the methodology may be made available for other departments. There is close dialogue between this initiative and the TW3 programme to avoid any overlaps or duplication and to ensure that departments adopt a coherent approach to implementation.
Throughout the 2 years of reform, the Civil Service has continued to support the Coalition Government's radical programme: 389 of 399 of the commitments from the Coalition Agreement (the Programme for Government ) are either completed or on track for completion by the end of this Parliament. In June this year, we announced £14.3 billion in efficiency savings against a 2009/10 baseline . All public services are being comprehensively reformed. Alongside this, reductions in the size of the Civil Service have also continued: by the end of 2013/14, the Civil Service was operating with 81,000 fewer people than it did in 2010, contributing to savings of £2.4bn in annual paybill costs alone, while continuing to deliver at a similar level.
Clearly, we have begun our journey towards a Civil Service for the 21st century but we are not complacent about the challenges we face. In some areas – improving our understanding of our capability, delivering efficiencies through shared transactional services – people can already see change: in others, such as leadership and culture change, we know we have only just started.
Therefore, we are reaffirming our commitment to reform and for the remainder of 2014/15 we will focus on:
tackling the cultural issues that still hold the Civil Service back from providing the best service it can
setting out a comprehensive leadership approach to ensure that reality matches rhetoric
taking urgent action to fill the critical skills gaps, especially in commercial and contract management, and to remove the barriers which stop talented people fulfilling their potential
planning our next steps on digital and technology and ensuring that our people have access to technology which is fit for a modern workplace
embedding functional leadership
In doing so, we will continue to show showing that alongside the traditional Civil Service values of integrity, honesty, impartiality and objectivity we can also be flexible, creative and open. Most importantly, we are showing that people across the Civil Service want to drive change further and faster. They want to create a modern Civil Service in which they can realise their full potential, take ownership of their work and truly be of service to the public. The new Chief Executive will be central to making this a reality and his/her appointment is a powerful signal of how important the continued success of this programme is to the Civil Service.
Is this page useful?
Yes this page is useful
No this page is not useful
Help us improve GOV.UK
Don't include personal or financial information like your National Insurance number or credit card details.
To help us improve GOV.UK, we'd like to know more about your visit today. We'll send you a link to a feedback form. It will take only 2 minutes to fill in. Don't worry we won't send you spam or share your email address with anyone.